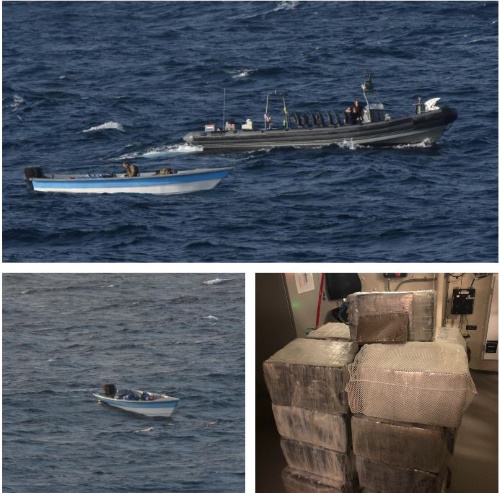 The Dutch naval vessel Zr.Ms. Groningen has intercepted a drug transport for the second time in a short time. In the Caribbean Sea, the patrol ship was able to force a so-called go-fast to stop last Friday. The ship intercepted another large cargo of cocaine. For the Groningen, it was the second drug seizure in three days.
One of the Coast Guard's maritime patrol aircraft in the Caribbean, the Dash-8, discovered the go-fast. Hr.Ms. Groningen, which then took action with its two fast interception vessels (FRISCs). Onboard a combined team of the US Coast Guard and the Marine Corps. They arrested the crew of the go-fast and intercepted the drugs.
The suspects and the illegal goods were later turned over to the US Coast Guard for prosecution in the United States. An estimated 465 kilograms of drugs are involved in this action.
HNLMS Groningen will be active in the region as a station ship for the Caribbean from June 2020, combining counter-drug operations with supporting the Coast Guard in the Caribbean. Last week, the Groningen already intercepted 455 kilograms of cocaine.