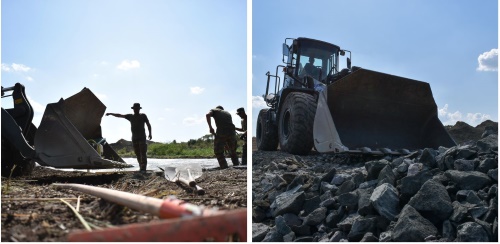 WILLEMSTAD:--- From October 18, a unit of the Royal Netherlands Army, 101 Engineer Battalion, will carry out various construction works on the Wacawa training area and in the Christoffel Park. The construction of these projects takes place within the Caribbean Beaver exercise. Commissioned by the Commander of the Navy in the Caribbean, the unit is providing an upgrade to the Wacawa training area so that both Dutch and foreign units have more facilities to train. In addition, the unit carries out restoration work in the Christoffelpark. The climatic conditions in Curaçao are comparable to the conditions in mission areas. This exercise, therefore, gives them the unique opportunity to train in similar conditions.
The unit comes with 120 soldiers who are distributed in Curaçao. Part of the group resides on Wacawa and another part resides on the Ascencion estate. In order to be able to fully carry out the construction work, 40 (military) construction vehicles have been shipped by ship and will arrive at the port in Willemstad on 14 October. From there, the vehicles are moved to Wacawa and Ascencion accompanied by a front detachment.
The company will carry out construction work at various locations on the island for its own training and to improve training facilities of the Royal Netherlands Navy, among other things. For example, a residence location on the Wacawa training area will be expanded with paved shelters and sanitary facilities. They also improve the Camp Dovale practice location with various minor activities, such as installing windows and frames in containers, and they carry out the corresponding earthwork at both locations. Finally, various activities are taking place in the area, including road improvements at the Wacawa training area, explorations for future work in the Christoffel Park and installation and electrical work at several locations. The exercise lasts until November 7.
COVID-19
All entering military personnel have been tested negative for COVID-19 in advance (no longer than 72 hours). This prevents one of the soldiers from possibly taking corona to the island. In addition, social activities are minimized and the unit follows the guidelines that apply in Curaçao.