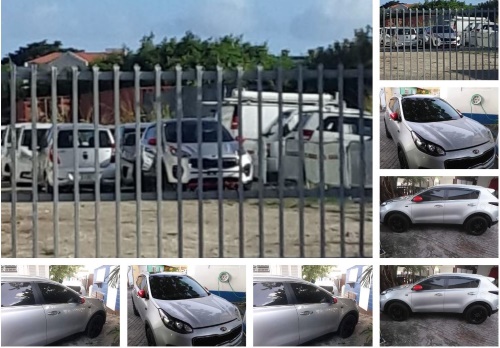 ~ Multiple lawyers worked on the case, yet the vehicle remains in police custody.~
PHILIPSBURG:--- Alex Anthony Watkins another person whose vehicle was seized by police on March 13th, 2020, and to date, Watkins cannot get his vehicle back from the police.
Watkins in an interview with SMN News said in August 2019 he purchased a Kia Sportage 2017 from one Christopher Baptist. He said he saw the vehicle in a parking lot on Bush Road, three times prior to buying the vehicle for $15,000.00.
Watkins said on March 13th, 2020 he was stopped by an unmarked police vehicle in Sucker Garden, he said police inspected his vehicle and then asked him to follow them to the police station. Police then placed him in custody for several hours and even wanted to hold him for 48 hours in a cold cell but he was released when he secured the services of a lawyer.
Watkins a businessman said that he hired the services of two other law firms since his vehicle was seized, he said police even stopped him from suspending his insurance while the vehicle is impounded. Watkins made clear that while the names mentioned in previous articles regarding stolen vehicles and police cover-ups he cannot say why his vehicle is still in police custody because so far no one claimed the vehicle police said was stolen and sold to him. He said he has all documentation for his vehicle including bill of sale, insurance, and inspection card. The young man said that he was at one point felt police had the wrong person and wrong vehicle when they arrested him, he went on to say an insurance company was trying to claim the vehicle but that fell apart because they later claimed the vehicle is not theirs. Despite that police still have the vehicle in their possession and the case is not moving forward. The case is now being handled by De La Rosa Law Firm.
SMN News is now calling on the Minister of Justice Anna Richardson to launch an indebt investigation into the stolen vehicles rampage and the vehicles confiscated by police. It's time the Prosecutors Office and Minister of Justice realize that this investigation must be conducted by the Landsrecherche and not KPSM.
Several persons contacted SMN News alleging that a group of Police Officers at KPSM is busy renting and selling vehicles. "Police Officers are busy running their own rental businesses with KPSM. Such activities should not be possible, Law enforcement officers are busy taking away income from car rental companies and they are not paying any turn over tax or other taxes from their side income." It is further alleged that many stolen vehicles that were confiscated are being rented by the group of officers.