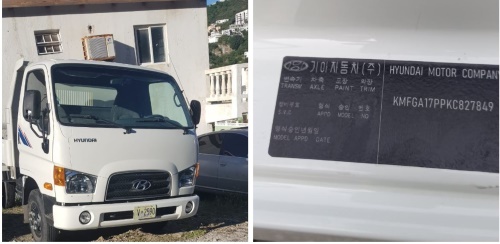 PHILIPSBURG:--- Motor vehicle thieves on St. Maarten are acting rather clever as they continue to steal vehicles. On Sunday, St. Maarten Concrete posted a photograph of their Hyundai HD 65 truck that was stolen by three young men during the early hours of the morning.
Managing Director of St. Maarten Concrete Franklin David offered a $1000.00 reward to the person that will provide information that would lead to the recovery of the vehicle that was bearing number plate R-2115. David also posted videos from his company video surveillance that showed the culprits that stole his vehicle.
On Monday around 4 pm David said he received valuable tips that led him to Monte Vista Road in Pointe Blanche where he found his truck nicely parked up in front of a building. The known businessman said he then called the police and provided the spear key to open and start his vehicle. David said that what surprised the police and himself is that the thieves changed the VIN number and replaced it with a brand new number and brand new license plates. The vehicle he said was found with license plate V 2590 and in his view, the vehicle was ready for the road on Tuesday. David said the police are busy conducting an investigation however, he feels that St. Maarten and its residents are in deep trouble since vehicular thieves are very much prepared and they have new VIN numbers and license plates at their disposal.
David thanked the St. Maarten community who used social media to share his videos and photos of the culprits while several persons within the community reached out to him with valuable information that led to the recovery of his vehicle.