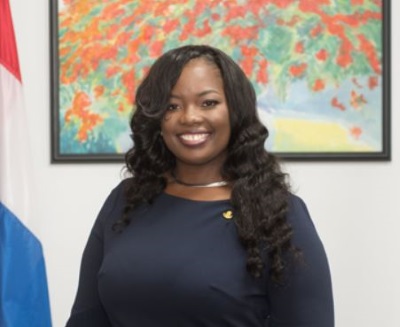 PHILIPSBURG:--- Minister of Justice Anna Richardson Anna Richardson appeared arrogant and annoyed with the questions posed to her and Prime Minister Silveria Jacobs about the issuance of the DMV license. Richardson made clear, she is the daughter of the soil and also said she worked day and night conducting research prior to requesting from the government the DMV license.
It should be noted that Minister Richardson said she obtained the license in 2013, however, sources said the Minister did obtain a business license in the form of a BV while she was blocked from obtaining an operational license from the Ministry of Justice by several of her predecessors. As such the Minister did not obtain all the required licenses to operate the DMV back in 2013.
On Wednesday during the Council of Minister's press briefing, the Minister said for the sake of transparency she reserved the answers to the question posed so she could answer them today during the weekly press briefing.
Minister Richardson said while working in the financial industry in 2010 she realized the country did not have a Department to register Motor Vehicles. Minister Richardson said after conducting the necessary research she submitted a proposal and request and obtained the DMV license from the government in 2013. The Minister said back then to present the financial situation with the government proved challenging especially in the area of manpower and resources for such service.
Instead of answering the questions posed to her regarding the license that the Minister obtained she said she has since distanced herself after becoming the Minister of Justice.
Richardson then formulated her own questions that she asked SMN News reporter instead of sticking to the facts regarding the license that creates a conflict of interest situation.
SMN News asked the Minister to submit a further explanation as to why there is still no DMV registration if, in fact, she obtained the license 7 years ago. The Minister of Justice prides herself as a 'daughter of the soil, someone that is innovative and a trailblazer, yet 7 years after obtaining the license the registration for motor vehicles still does not exist.
The Minister of Justice further said that had the registration exist 10 years ago then there would not have been so many vehicular-related issues today such as car-theft. The Minister went on to say that the information regarding the DMV license was leaked in order to tarnish her name and character.
SMN News will update this article when the Minister provided the answers to the follow-up questions sent to her by email.