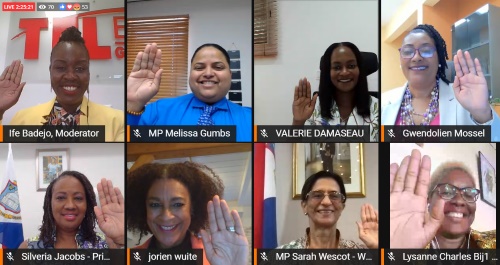 PHILIPSBURG:--- March 8, 2021, marked International Women's Day 2021. This day was celebrated around the world in recognition of the social, economic, cultural, and political achievements of women and also brought awareness to areas that need improvement for gender equity and inclusion. This year, International Women's Day was themed 'Choose To Challenge'.
As part of the global celebration, the University of St.Martin (USM), TelEm N.V and the Produce Wealth Revolution (PWR) Agency came together in a collaborative effort to produce Oualichi Politics - a virtual panel discussion highlighting seven (7) of the island's most influential women in the political arena. This virtual panel discussion was moderated by Ife Badejo, founder and Chief Experience Officer of the PWR Agency.
Six (6) speakers were the Honorable Silveria Jacobs (Prime Minister and former Minister of Education), Honorable Melissa Gumbs (MP and co-founder of PFP), Honorable Valerie Demaseau (First Vice President of the Collectivité de Saint-Martin), Gwendolien E. Mossel (Ombudsman of St. Maarten), Lysanne Charles (Candidate for the Dutch Second Chamber national elections, Bij1), and Jorien Wuite (Candidate for the Dutch Second Chamber national elections, D66). Each speaker shared what inspires them and the difference they would like to see in the future of St. Maarten/St. Martin.
Before going to the panel discussion, Member of Parliament, Honorable Sarah Wescot-Williams, was awarded the Living Legend Award in recognition for being a trailblazer for other women in politics with her substantial influence in politics. MP Wescot -Williams has been a notable player in politics for more than four (4) decades. Her political career saw her ascent in 1994 to the leadership of the oldest political party on the island, the Democratic Party, following in the footsteps of the legendary late Dr. A. Claude Wathey.
In the former structure of Island Territory, she served in the Island Council for 15 years and for a short period, was also a member of the Netherlands Antillean Parliament. On October 10, 2010, she was appointed the first Prime Minister of the Country St. Maarten. In that capacity, she represented the country in regional bodies and chaired the regional HIV/AIDS program and the regional European Development Programs. MP Sarah Wescot-Williams has also served as President of the Parliament and holds a Master's degree in Public Administration.
In her recipient's address, MP Wescot-Williams focused on the need for more dialogue among women in politics and the importance of building bridges to address the needs of society, especially those of women for economic dignity. The member of parliament addressed the current crisis and her choice to challenge not let the pandemic make her oblivious to the many challenges that exist in our society, especially for women. MP shared her optimism that the window of opportunity to leverage this crisis for lasting change is still open, "albeit closing", for justice, equality, and peace. All women congratulated MP Wescot-Williams for her award and spoke about what they choose to challenge.
The panel discussion focused on what these women choose to challenge in their roles. PM Jacobs spoke about how she chooses to challenge the status quo including the limits put on women for their gender and negative perspective of civic engagement. MP Gumbs shared how she chooses to also challenge the status quo and bring innovative solutions to the community in her capacity as a parliamentarian and party leader. First VP Damaseau spoke about how she chooses to challenge cross-border governance in a manner that ideally serves the people collectively of this island. Ombudsman Ms. Mossel spoke about she chooses to challenge the 'glass ceiling', that St. Maarten cannot have an equitable society, and to involve the youth to better understand civics and governance. Drs. Wuite focused on choosing to challenge the inequality in our society especially disenfranchised women and children who are unable to further develop themselves through education including affordable and quality daycare. Ms. Charles shared that she chooses to challenge the limits of society that may divide us as a society, economic differences in healthcare and education, and therefore poverty.
Commentators included Ms. Makhicia Brooks, director of the St. Maarten Development Fund (SMDF), Akilah Meulens from the SAFE organization, and Carla Vlaun from Melee. All of these women asked questions that were answered by the panelists.
Oualichi Politics aired on Facebook Live on the pages of TelEm N.V., USM, and PWR Agency simultaneously on March 8th and the replay is available on those same pages.