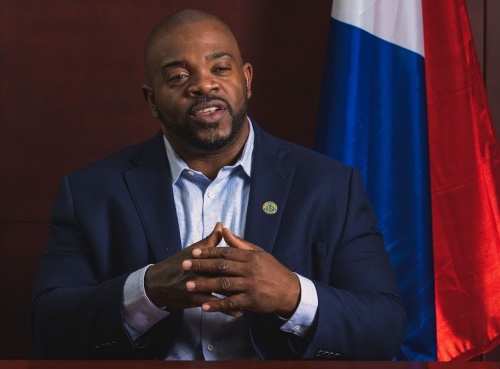 PHILIPSBURG:--- Independent Member Christophe Emmanuel is questioning if the government had enough budget space to cover the cost of the new garbage collection contracts and if not, how the Minister of Finance managed to secure additional funding after telling the public "that we are basically broke and in a bad liquidity situation."
Emmanuel said he refuses to believe that government, fresh off of implementing benefit and income cuts on civil servants, approved contracts with cost increases for the different collection parcels. If the Minister of Finance "somehow miraculously" found extra money to collect garbage, Emmanuel said, then "he and the whole government will have a lot of explaining to do."
"If the government is truly in solidarity with our people, who they have made to suffer even more by taking away income and benefits, then how can you do that to them then continue to spend irresponsibly. You can reportedly increase for garbage, but cut from your people," Emmanuel said, adding that the semi-private sector workers also had to take cuts as part of the liquidity support agreement.
The MP said new information points to a situation of not enough funds to cover the contracts as proposed by the Ministry of VROMI. "First, the Minister has to say if this is true or not. If it is true, then the Minister has to explain how he found the money and how much is the increase and why the increase in the total cost for garbage collection," Emmanuel said.
MP Emmanuel also questioned if the financial controller of the Ministry of VROMI signed off on the approved advice and with what comments if any. He also questioned if the Minister of Finance himself signed the approved Council of Minister's advice.
"Day by day more and more is emerging about this bidding process. As I've stated before, there are just too many red flags and unanswered questions surrounding this process. On top of that, we have learned that two of the bidders have engaged the Ombudsman and others are seeking other legal recourses. The Minister of VROMI and the Minister of Finance can dance and dodge as much as they want, but what's done in the dark will be brought to light, and answers will have to be provided," Emmanuel said.
On Monday Emmanuel also publicly asked Governor Eugene Holiday to clarify his signing of the bidding documents knowing the red flags that have emerged. Then on Wednesday, Emmanuel also questioned if the Governor received all relevant documents that should have been attached to the advice.