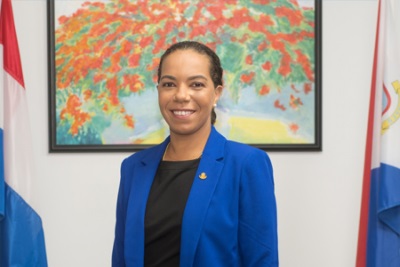 ~ Dr. Luc Mercelina remains out, now that De Weever accepts MP's position. ~
PHILIPSBURG: --- Minister of TEATT Ludmilla de Weever who spent just over a year in the executive branch of government has decided to tender her resignation and to now occupy the vacant seat in parliament in the United Peoples Party Faction (UPP). De Weever became eligible to become a member of parliament after the Minister of VSA Omar Ottley resign to take up the ministerial post in the executive branch. De Weever who ran as the number 6th candidate on the UPP slate in January 2020, obtained 266 votes. It is expected that De Weever will be sworn in on Friday, May 7th. 2021.
SMN News has learned from reliable sources that the United Peoples Party is considering two other persons to occupy the vacant seat in the executive branch. One of those persons ran on the UPP slate during the January 2020 snap parliamentary elections. So far, no definite decisions have been taken by the United Peoples Party board and leader Rolando Brison as to the name of the candidate minister they will submit for screening.
In an invited comment party leader and chairman of parliament, Rolando Brison said the Minister of TEATT made a conscious decision to vacate the seat in the executive branch and to take up the seat in parliament.
The United Peoples party wishes to welcome Ludmila de Weever as the next Member of Parliament to fill the open seat left by former MP Ottley who became Minister of VSA. De Weever was informed of this on April 21st, 2021 by the Central Voting Bureau. Minister de Weever informed the party as well as the main voting bureau of her intention to move to Parliament on Wednesday.
In accordance with article 34 paragraph 4 of the Constitution, Minister de Weever will be able to hold both positions temporarily and plans to use that time to create a smooth transition for her successor while performing her duties as a new Member of Parliament.
The leader of the UP Party congratulated her for the work done and welcomed her nomination as MP "Minister de Weever has represented us proudly, and I'm sure she will bring the same energy and enthusiasm she exhibited throughout her tenure to the floor of Parliament."
The party will have begun the process of selecting her next successor and, as with previous Ministerial appointments, will inform the public once the screening process has been completed.