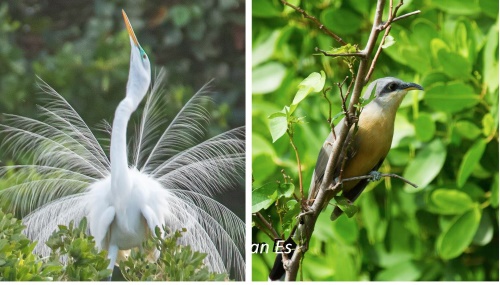 PHILIPSBURG:--- On Sunday 9th May, EPIC is hosting an event at Little Bay Pond to celebrate World Migratory Bird Day. The event starts with cleanup around the Pond from 7 a.m. to 9 a.m. EPIC will provide gloves, bags and some grabbers and VROMI are providing a dumpster to take away all the garbage. Meet by the roundabout in Belair.
This will be followed by interactive activities to learn about birds with local bird expert Binkie van Es, 8 a.m. – 11 a.m. Mr. van Es will lead talks from the birdwatching hut, present recordings of bird song, and run games that will increase your knowledge of local and migratory birds that can be seen at the Pond. There will also be binoculars available for people to see the birds from the bird hut.
This is a family-friendly event and in addition to the games, there will also be bird colouring books for children. Children are also welcome to help with the cleanup.
This morning celebrating birds is a free outdoor event but please wear a mask or buy one of EPIC's scarf bandana masks and support future EPIC activities in Sint Maarten. Contributions are welcome at www.epicislands.org.