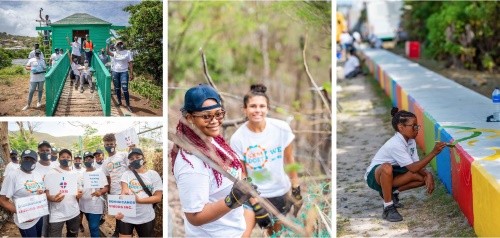 PHILIPSBURG:--- The Coordination Team behind SXM DOET is very proud to announce that over 60 community projects were completed on May 28 & 29. Twenty-five projects have been postponed and will be completed later this year.
Some examples of completed projects by community organizations participating during SXM DOET 2021 included: K1 Britannia Foundation who held an impressive food drive to support their food assistance program, RISC Takers, who collaborated with New Start for Children's Foundation to complete some much-needed playground renovations, and the National Institute of the Arts who brought colour and joy to their building and the surrounding area on Longwall Road.
With the help of hard-working volunteers, other projects spruced up schools with a new layer of paint, plants, benches, and more. Playgrounds and sports fields in various communities received much-needed upgrades and renovations. Murals, neighbourhood cleanups, and establishing recreational areas were also among the successfully executed projects.
Due to the recent rising numbers of active COVID-19 cases, the SXM DOET team was advised to enforce several stricter regulations, including postponing all indoor projects. A few organizations also opted to postpone allowing them to execute more COVID-safe projects later this year when active cases decrease. Projects with many external volunteers were asked to downsize or engage more volunteers from within their own 'bubble' or organization.
All persons that participated last weekend were provided with masks, and volunteers were strongly encouraged to socially distance and disinfect when needed. Some great examples include the WYYCF who utilized vaccinated or tested volunteers to organize some fun social activities for their clients. Marie Genevieve De Weever School gathered many of their staff to promote volunteering in their own 'bubble' and completed an impressive amount of tasks. The Green Learning Academy split volunteers into various groups and accommodated them in multiple time-slots to allow for more social distancing.

"We appreciate the flexibility and creativity of the participating organizations this year. We apologize for the needed last-minute changes but are happy that everyone understands the importance of staying safe and adapting during this pandemic. Despite the setbacks, we are once again proud of all participants and supporters of SXM DOET! Thank you for all your efforts," states Laura Bijnsdorp from the SXM DOET Coordination Team.
Volunteers of all ages were seen at the various projects. Many members of the business community, Government departments, and service clubs were also spotted, utilizing SXM DOET as a meaningful team building activity. Members and Staff of Parliament also participated. MP Sarah Wescot-Williams volunteered at EPIC's restoration and cleanup of their bird hut at Little Bay. MP Melissa Gumbs and MP Angelique Romou helped IDEAL Playschool give their playground a makeover, and MP Solange Duncan and MP Siddarth Bijlani took part in NIA's repainting project.
Besides volunteers, many businesses and partners contribute to the event through donations and discounts, some even adopting or financing entire projects. Melanie Choisy, President of Be The Change Foundation: "To those entities, we owe a very special thank you, since, without such selflessness, SXM DOET would not be what it is today!" The SXM DOET Team would therefore like to thank: Tshirt Maxx, Cool Tec, Domino's Pizza, Cake House, DIVICO, Heavenly Water, Greenfingers, Kooyman, Sherwin Williams, R&R Tackling, Viva Signs, the Philipsburg Broadcasting Company, Island 92, PJD3, My88.3, Caribbean Legacy, CC1, The Johnny Caker, APS, La Chingona Taqueria, Nagico Insurances, Fit Foods, Print & Sign Express, RTGH Photography, Alexandra Schaede Photography, Members of the Media that help spread information about SXM DOET, and every other local organization that took the time out to volunteer their time for the betterment of St. Maarten.

This year, several committed volunteers also signed on as 'volunteer project managers'. They assisted various organizations in the DOET-process in the weeks leading up to the event. SXM DOET Coordinators: "We owe them a big thank you as well, as they took some of the workloads off our shoulders and helped the whole event go a lot smoother!" The coordinators were also happy with persons that signed on as their 'media team, who made sure to document the whole event on social media for the two days

Be The Change Foundation, the executor and organizer of SXM DOET, would also like to thank the Oranje Fonds for having brought the initiative to Sint Maarten and, of course, for funding the effort locally and throughout the rest of the Dutch Kingdom. Projects could apply for funding up to $650. A total of $44.404 was divided over 87 projects, who submitted requests this SXM DOET.

"Thanks to the collaboration of funding agencies, government departments, businesses, organizations, and especially our volunteers - a huge positive impact was made on Sint Maarten! For those volunteering with postponed projects, thank you too; we look forward to seeing those projects completed later this year." said the SXM DOET Coordination Team.

For more information on SXM DOET or to learn how to contribute in any way, please contact: the SXM DOET Coordination Team, Laura Bijnsdorp, Melanie Choisy or Fleur Hermanides at This email address is being protected from spambots. You need JavaScript enabled to view it. or visit www.sxmdoet.com / www.facebook.com/SXMDOET.