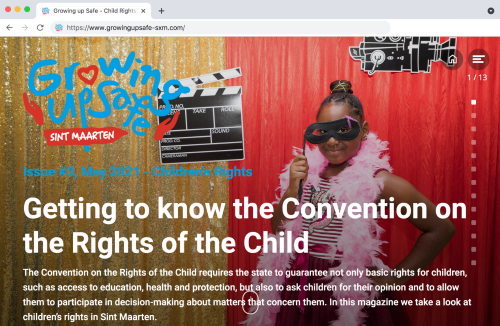 PHILIPSBURG:--- The third online edition of the 'Growing Up Safe Sint Maarten' magazine has been launched. This edition puts special focus on children's rights and features interviews with The Public Prosecutors Office, Youth Parliament, Sister Basilia Center, and SECDA, amongst other updates, tips, and insights. The content of the magazine is geared towards informing and connecting professionals that work with children on Sint Maarten.
The United Nations Convention on the Rights of the Child (CRC) was drafted and ratified in 1989 and took effect a year later in 1990. Sint Maarten also has an obligation to live up to the CRC as a constituent of the Kingdom of the Netherlands, which has signed up to the treaty. This issue of the Growing Up Safe Sint Maarten magazine provides an easily accessible way to learn more about the developments surrounding children's rights on Sint Maarten.
"Advocacy and strengthening capacity in the area of children's rights and youth development is and remains the top priority. Hopefully, this magazine will contribute to this aim and inspire all our professionals working with children," explains Soraya Agard-Lake, Member of the Child Protection Working Group (CPWG).
The CPWG is an inter-ministerial group, with representatives from the Ministries of Justice, Education, Culture, Youth and Sport (ECYS) and Public Health, Social Development and Labour (VSA). The magazine series is one of the initiatives of the CPWG with the support from UNICEF the Netherlands and Augeo Foundation, and is financed by the Government of The Netherlands, through the Sint Maarten Trust Fund managed by the World Bank, as part of the Child Resilience and Protection Project (CRPP)"
Read the 'Growing Up Safe Sint Maarten' Magazine series on www.growingupsafe-sxm.com. To follow updates on UNICEF The Netherlands work on Sint Maarten follow 'Unicefsxm' on Facebook or @unicefsxm on Instagram.