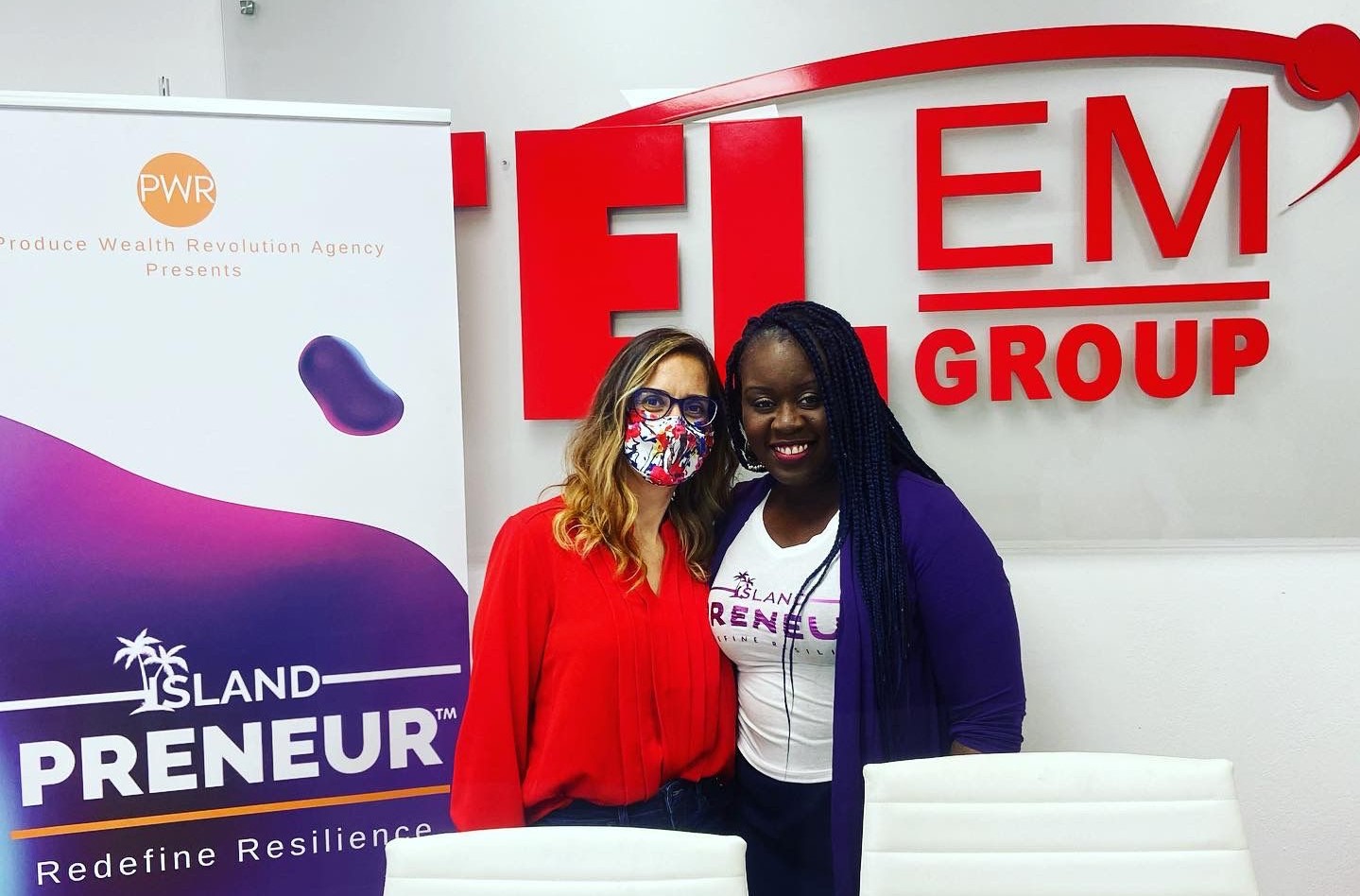 ~More than 20 global experts gave tools to islandpreneurs to build more resilient and global businesses.~
PHILIPSBURG:--- On June 3rd – 4th, Islandpreneur Live 2021, the second annual signature virtual experience hosted by Produce Wealth Revolution (PWR) Agency took place. This two (2) day virtual summit focused on providing island-based entrepreneurs with actionable insights to build resilient and global businesses. Speakers covered topics like design thinking, securities exchange, financial resilience, digital transformation on islands and its impact, global branding, digital media and building a profitable business, innovation, export, strategy, building partnerships, and more.
Key experts included senior leaders of the Government of Sint Maarten, Dutch Caribbean Securities Exchange (DCSX), Centrale Bank van Curaçao en Sint Maarten(CBCS), Florida Customs Brokers & Forwarders Association, Microsoft, and Facebook. Other experts were award-winning entrepreneurs featured in publications such BBC, Entrepreneur, and Fast Company.
One of the unique elements in this years' experience was the live recording of Islandpreneur Podcast with international guest, former venture capitalist turned youtuber, Evan Carmichael. Evan's youtube channel just crossed 3 million subscribers. He is also an author of five (5) books including his latest "Built to Serve". His goal is to solve the world's biggest problem of people not believing in themselves enough. He has been regarded at Forbe's Top 40 Social Media Talents and Inc. has named one of the 100 great leadership speakers. At Islandpreneur Live, Evan challenged the attendees to believe more and shared how he believes that entrepreneurs are going to solve the world's biggest problems.
Another unique component was Islandpreneur Awards and Roundtable discussion, in which four (4) global experts were awarded for their impact and involvement in entrepreneurship, particularly on small islands.
The virtual award ceremony was hosted by internationally award-winning blogger, Kenty Lichtenberg of Kerai Kreative Style, and the roundtable discussion was facilitated by none other than Lenworth Wilson Jr.

These awardees included: (1) Leslie Samuel, who received the Pioneer of the Year Award for his ability to pave the way in the way he does business, incorporate cutting-edge technologies, and his commitment to supporting islandpreneurs. Leslie, originally from St. Maarten and based in Florida, is a successful online business coach, who helps people change the world one post at a time. (2) Christy Brown, President of Launchpad 2x, a non-profit organization for women entrepreneurs, received the Investor of the Year Award. She has invested in entrepreneurs, particularly women in underserved communities and regions of the world. Ms. Brown is committed to supporting islandpreneurs and assisting in finding investors to support both regional and global growth. (3) Heneka Watkis- Porter also known as the queen of podcasting, is a Podcast producer and coach, 5x author and speaker who has interviewed many global entrepreneurs and influencers, including Lisa Nichols, Les Brown, and Sir Richard Branson. Originally from Jamaica, where she runs her business The Entrepreneurial You, Heneka is unapologetically island and stayed true to who she is while building a global business. For these reasons , she has been awarded Islandpreneur of the Year.
(4) Jeff Hoffman, an award-winning entrepreneur, Chairman of Global Entrepreneurship Network, best-selling author, the founder of multiple startups and has been a part of well-known successful startups, including Priceline.com/Booking.com and uBid.com to name a few. Jeff has shown up for smaller islands such as Aruba, Curacao, and St. Maarten. Dedicated to ensuring that entrepreneurs around the world are supported to thrive, Jeff was awarded Global Leader of the Year.
Other highlights of Islandpreneur Live were opening address by keynote by Small Medium Business (SMB) Lead at Microsoft Caribbean Yamile Bustamante Allen, financial resilience workshop by the Centrale Bank van Curacao en Sint Maarten, a roundtable discussion on digital transformation and future of islands which included the head of egovernment digital transformation project, Mr. Femi Badejo and James Ellsmoor of Ireland who runs Island Innovation an organization that focuses on sustainable solutions on islands around the world.
Yinka Badejo, a proud daughter of the soil and Data Science Manager of Facebook shared on the importance of purpose to be innovative. "Start with the purpose, ... the person with the biggest drive is the most grounded in purpose"- Yinka Badejo said as she shared why purpose is the strategy to innovate. Yinka's career has spanned aviation, railway, and consulting, working for companies like Piper Aviation, Boston Consulting Group, and Ernst & Young.
Cristal Legrand, the Host of St. Martin Entrepreneurship World Cup (EWC), announced the first top five(5) finalists for the EWC during Islandpreneur Live. These are (1) Sunil Mirani of Orders.SX, (2)Jean Oneli Blaise of STEMS, (3)Dieu Donne of Lips & Lashes Cosmetics, (4) Ricardo Perez of SXM Padel Group, and (5) Maria Jose Segura Ibarra of Inti Ayllu. The winner of the national competition will ultimately go to Saudi Arabia to experience the global competition which has prizes up to USD $500 000 for the global winner.
The event ended with a virtual toast to celebrate the success of Islandpreneur Live 2021 with notable wines of E&J Gallo Winery, La Marca, Apothic, Barefoot, and Carlo Rossi Ice. The PWR Agency would like to thank all the Islandpreneur Live's strategic partners, TelEm N.V., Prime Distributors, Dutch Caribbean Securities Exchange (DCSX), Centrale Bank van Curaçao en Sint Maarten (CBCS), all the global experts and registrants for making this event a success.
Replays are available for purchase until June 18th for $37. For more information about Islandpreneur Live or services, email This email address is being protected from spambots. You need JavaScript enabled to view it. or join the Facebook group at www.fb.com/groups/islandpreneur.