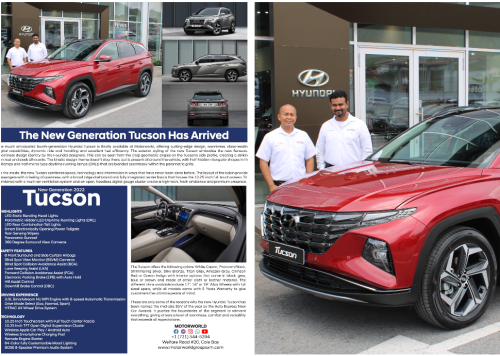 PHILIPSBURG:--- The much anticipated fourth-generation Hyundai Tucson is finally available at Motorworld, offering cutting-edge design, roominess, class-leading digital capabilities, dynamic ride and handling and excellent fuel efficiency. The exterior styling of the new Tucson embodies the new Sensuous Sportiness design identity by the Hyundai designers. This can be seen from the crisp geometric angles on the Tucson's side profile, creating a striking contrast and sleek silhouette. The kinetic design theme doesn't stop there, but is present all around the vehicle, with half-hidden triangular shapes in the taillamps and half-mirror type daytime running lamps (DRLs) that are blended seamlessly within the parametric grille. On the inside, the new Tucson combines space, technology and information in ways that have never been done before. The layout of the cabin provides passengers with a feeling of openness, with a broad ridge dashboard and fully integrated center fascia that houses the 10.25-inch full-touch screen. This combined with a multi-air ventilation system and an open, hoodless digital gauge cluster create a high-tech, fresh ambience and premium presence.
Highlights
• LED Static Bending Head Lights
• Parametric Hidden LED Daytime Running Lights (DRL)
• LED Rear Combination Tail Lights
• Smart Electronically Opening Power Tailgate
• Rain Sensing Wipers
• Panoramic Sunroof
• 360 Degree Surround View Cameras
Safety Features
• 6 Front Surround and Side Curtain Airbags
• Blind Spot View Monitor (BSVM) Cameras
• Blind Spot Collision-Avoidance Assist (BCA)
• Lane Keeping Assist (LKA)
• Forward Collision Avoidance Assist (FCA)
• Electronic Parking Brake (EPB) with Auto Hold
• Hill Assist Control
• Downhill Brake Control (DBC)
Driving Experience
• 2.0L Smartstream NU MPI Engine with 8-speed Automatic Transmission
• Drive Mode Select (Eco, Normal, Sport)
• HTRAC All-Wheel Drive System
Technology
• 10.25 Inch Touchscreen with Full Touch Center Fascia
• 10.25 Inch TFT Open Digital Supervision Cluster
• Wireless Apple Car Play / Android Auto
• Wireless Smartphone Charging Pad
• Remote Engine Starter
• 64-Color fully Customizable Mood Lighting
• BOSE 8-Speaker Premium Audio System
The Tucson offers the following colors: White Cream, Phantom Black, Shimmering Silver, Silky Bronze, Titan Gray, Amazon Gray, Crimson Red or Ocean Indigo with interior options that come in black, grey, blue or brown and made of either cloth or leather material. The different trims available include 17", 18" or 19" Alloy Wheels with full sized spare, while all models come with 5 Years Warranty to give customers the ultimate peace of mind. These are only some of the reasons why the new Hyundai Tucson has been named the mid-size SUV of the year by the Auto Express New Car Awards. It pushes the boundaries of the segment to reinvent everything, giving drivers a level of roominess, comfort and versatility that exceeds all expectations.
Be sure to visit at Welfare Road #20 in Cole Bay, call +1 (721) 544-5294 or visit the website at www.motorworldgroupsxm.com for further information.
La nouvelle génération de Tucson est arrivée
La Hyundai Tucson de quatrième génération, très attendue, est enfin disponible à Motorworld. Elle offre un design de pointe, de la spaciosité, les meilleures capacités numériques de sa catégorie, une conduite et un comportement dynamiques et une excellente efficacité énergétique. Le style extérieur du nouveau Tucson incarne la nouvelle identité de design "Sensuous Sportiness" des designers de Hyundai. Cela se voit aux angles géométriques nets sur le profil latéral du Tucson, créant un contraste saisissant et une silhouette élégante. Le thème du design cinétique ne s'arrête pas là, mais est présent tout autour du véhicule, avec des formes triangulaires à moitié cachées dans les feux arrière et des feux de jour (DRL) de type demi-miroir qui se mêlent harmonieusement à la calandre paramétrique.
À l'intérieur, la nouvelle Tucson combine espace, technologie et information de manière inédite. L'aménagement de l'habitacle procure aux passagers une sensation d'ouverture, avec un tableau de bord à large crête et un bandeau central entièrement intégré qui abrite l'écran tactile intégral de 10,25 pouces. Ces éléments, combinés à un système de ventilation multi-air et à un groupe de jauges numériques ouvert et sans capot, créent une ambiance high-tech et fraîche et une présence haut de gamme.
Points forts
- Feux avant statiques à LED
- Feux arrière combinés à LED
- Hayon électrique à ouverture électronique intelligente
- Essuie-glaces à détecteur de pluie
- Toit ouvrant panoramique
Caractéristiques de sécurité
- 6 coussins gonflables latéraux et rideaux gonflables latéraux avant
- Caméras de surveillance des angles morts (BSVM)
- Système de prévention des collisions dans l'angle mort (BCA)
- Assistance au maintien dans la voie (LKA)
- Assistance à la prévention des collisions avant (FCA)
- Assistance au suivi de voie
- Frein de stationnement électronique (EPB) avec blocage automatique
- Contrôle de l'assistance en côte
- Contrôle du freinage en descente (DBC)
Expérience de conduite
- Moteur Smartstream NU MPI de 2,0 L avec transmission automatique à 8 vitesses
- Sélection du mode de conduite (Eco, Normal, Sport)
- Système toutes roues motrices HTRAC
Technologie
- Écran tactile intégral de 10,25 pouces
- Apple Car Play/ Android Auto sans fil
- Chargeur sans fil
- Démarreur à distance
- Système d'éclairage d'ambiance à 10 couleurs
- Éclairage d'ambiance 64 couleurs entièrement personnalisable (versions les plus élevées)
- Système audio haut de gamme BOSE à 8 haut-parleurs
- Tableau de bord numérique ouvert TFT de 10,25 pouces
Le Tucson offre les couleurs suivantes : Blanc Crème, Noir Fantôme, Argent Scintillant, Bronze Soyeux, Gris Titan, Gris Amazone, Rouge Pourpre ou Océan Indigo avec des options intérieures dans les tons noirs ou gris et faites de tissu ou de cuir. Les différentes finitions disponibles comprennent des jantes en alliage de 17, 18 ou 19 pouces avec une roue de secours de taille normale, tandis que tous les modèles sont couverts par une garantie de 5 ans pour offrir aux clients une tranquillité d'esprit absolue.
Ce ne sont là que quelques-unes des raisons pour lesquelles la nouvelle Hyundai Tucson a été nommé SUV de taille moyenne de l'année par les Auto Express New Car Awards. Il repousse les limites du segment pour tout réinventer, offrant aux conducteurs un niveau d'espace, de confort et de polyvalence qui dépasse toutes les attentes.
Ne manquez pas de vous rendre au Welfare Road #20 à Cole Bay, appelez le +1 (721) 544-5294 ou visitez le site web www.motorworldgroupsxm.com pour de plus amples informations.