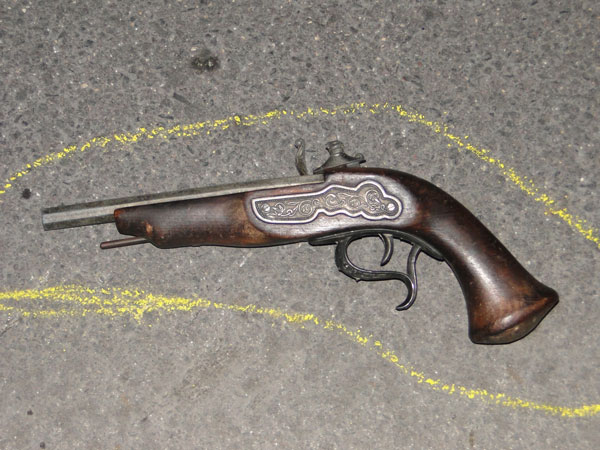 Philipsburg:--- On Wednesday December 29th at approximately 09:30 pm the Police central Dispatch received a call of a suspicious vehicle in the area of Victors Supermarket in Cole Bay. The description of the car was a small gray Chevrolet without any license plate in which three young men were driving.
The men inside this vehicle were all dressed in dark clothing and were behaving quite suspicious. A patrol from the Zero Tolerance team while driving on the Welfare road in the vicinity of Lee's Roadside Grill spotted the vehicle in question driving towards the Airport Boulevard.
The Zero Tolerance patrol decided to conduct a routine stop in order to establish the identity of the persons driving in this vehicle. The patrol ordered the driver of the car to stop however, he refused to do so and increased his speed. A high speed chase started through the areas of Beacon Hill, Maho Reef, Mullet Bay and Cupe Coy. In the Beacon Hill area one suspect jumped out of the car in his attempt to escape from the police however, was immediately apprehended by police. The other two suspects continued in their attempt to escape from the police. Meanwhile several other police patrols had joined the chase. In the Mullet Bay area a warning shot was fired but the driver did not stop and continued to flee towards the Low Lands with the intention to cross the border. A shot was then fired at the right front tire disabling the vehicle. Both occupants jumped out of the car and ran into the bushes next to Atlantis Casino. The area was immediately surrounded by several patrols at which time the Police K-9 went into the bushes to search for the suspects. When these suspects jumped out of the car one of them dropped a very old antique fire arm (a musket) on the ground.
This firearm was confiscated for further investigation. The search for the suspects lasted approximately an hour and a half without any results. As the search continued in the Mullet Bay area reports came in that the two suspects were being held at the security office of the Cupe Coy Hotel however, that one of the suspects had managed to escape and was running towards the border via the coast. The second suspect was immediately transported to the Philipsburg Police Station. A search for the third suspect continued in the dark of night but he managed to cross the border through the bushes. The Gendarmes were contacted and informed of the situation. The two suspects that are in custody are G.B. and S.B. and are both from the French side. The small gray vehicle was also confiscated and towed away for further investigation.