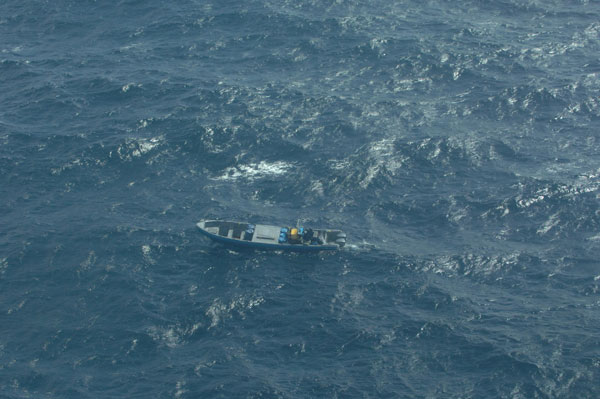 An international counter-drug operation on the high Caribbean seas leads to a significant drug bust of 500 kg of cocaine, the Royal Netherlands Navy in Curaçao disclosed. As the case is currently under investigation, information could not have been released earlier.

As part of Operation Martillo, the commander of the Netherlands Forces in the Caribbean directed the US frigate USS Elrod to intercept after the Dutch Caribbean Coast Guard maritime patrol aircraft 'Dash 8' sighted a fast moving 'go fast' speedboat.

While Elrod's helicopter managed to bring the chase to a halt, the suspected drug runners on board the 'go fast' started to throw their cargo over board in an attempted to escape capture. The vigilant 'Dash 8' had remained on station however and kept track of the contraband while the US Coast Guard law detachment on board Elrod took 4 persons on board the 'go fast' into custody. When tests proved the retrieved cargo to be cocaine, the 4 persons on board were arrested.

The USS Elrod is scheduled for a port visit to Curaçao, where a change of command of the US Navy frigate will take place.

Operation Martillo is a multi-national collaborative effort to counter the spread of transnational organized crime in Central America. It is a operation lead by the Joint Inter-agency Task Force South and denies organized crime networks the ability to conduct illicit trafficking via targeted air and maritime domains.

The Royal Netherlands Navy plays a vital role maintaining regional security and stability in the Caribbean region. The Dutch Navy and the Dutch Caribbean Coast Guard are an integral part of the Joint Inter-agency Task Force South. The Commander of the Netherlands Navy in the Caribbean heads one of the task groups, Task Group 4.4. Dutch and international Navy and Coast Guard units are under his command, deployed to counter illicit drugs transports, weapon smuggling, and human trafficking.