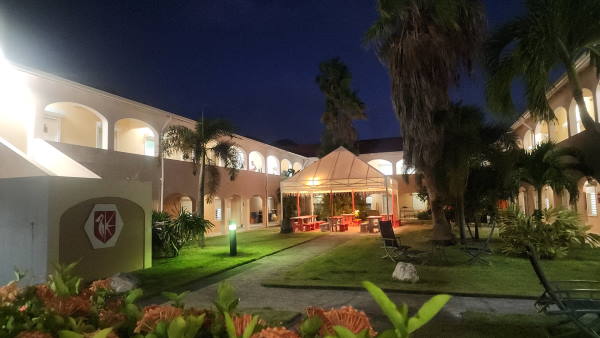 PHILIPSBURG:--- Pending financial commitment from the Ministry of Education, Culture, Youth and Sport (MECYS) the University of St. Martin (USM) is scheduled to join the universities of Aruba and Curaçao in offering an academic foundation year for high school graduates wanting to successfully pursue an academic career at USM or abroad, as per August 2024.
Working in close collaboration with Dutch Kingdom partners USM revamped its already existing Pre-USM programme in a concerted effort to offer Sint Maarten secondary school graduates a three-track College and Career Foundation Year (CCFY) to prepare them for either: (1) study at USM or any liberal arts institution of higher education, (2) tertiary studies in the Netherlands or (3) entrance into the job market.
The programme has been ready since April 2023 and shared with the Ministry of Education, Culture, Youth and Sport (MECYS), as well with the Dutch Ministry of Education, Culture and Science. The total cost for running the programme is approximately USD 138,000; or just under USD 4.000 per student for an initial cohort of 36 participants. Nevertheless, MECYS has indicated that they are not ready to finance the programme until August of 2024, hence the delay.
Responding to confusion stirred in the local media concerning the academic foundation year, Dr. Carmona Báez sent written statements to the press explaining the non-compulsory character of this programme.
"Contrary to what has been spread through print and social media, CCFY will not be compulsory. Nevertheless, ministries of education and institutions of higher education across the Kingdom of the Netherlands will encourage students to take advantage of the academic foundation year which will in part be subsidised by governments. USM wanted to kick-off the academic foundation year in August this year, but we are still waiting for MECYS to commit financially", said Carmona.
According to the USM press release, CCFY is born out of the need to raise the level of preparedness among country Sint Maarten's youth for success in higher education and entry into the labour market. It coincides with the formation of the Strategic Education Alliance (SEA), which among other goals, seeks to synchronise a Caribbean foundation year program in the Caribbean part of the Kingdom. CCFY takes into consideration the diverse secondary educational trajectories existing on the island of St. Martin (French system and GED included). USM has expressed its readiness since May 2023 to serve students from Saba and Sint Eustatius as well.
The advantage of completing a foundation year in Sint Maarten through the CCFY programme is that USM is founded on the liberal arts tradition, which allows qualifying students to obtain transferable undergraduate credits by taking introductory courses in the social sciences, humanities, and math, computer and natural sciences. For those who need a boost to enter college, they can find more support in CCFY in the areas of academic writing, math and foreign languages. Unlike Pre-USM, the academic foundation year will also cater to HAVO and VWO graduates who might need intensive Dutch language and cultural training before heading to the Netherlands.
"Our priority is not to send our students to Holland. Rather, what we want to do is equip our youth with strong academic and professional skills needed to enter an academic career of their choosing, whether that be at USM, in the United States, Netherlands or anywhere else in the world, or enter the rapidly changing job market," according to the President, Dr. Carmona Báez.