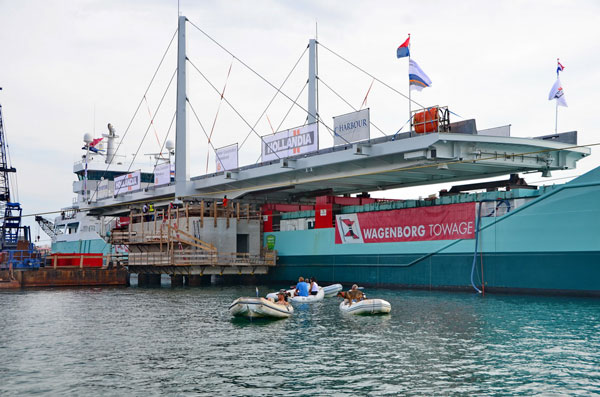 POINT BLANCHE:--- St. Maarten Harbour Group of Companies (SMHG) Chief Executive Officer (CEO) Mark Mingo announced on Monday that the Causeway Swing Bridge is in place. Mingo expresses gratitude to all those who have contributed to the project especially this particular part.
The Swing Bridge is 220 feet long and weighs 450 tons. The Causeway has a total length of 2493 feet and features a two-lane motorway, a bicycle track and footpaths.
On Sunday, a critical stage was reached in the installation of the Swing Bridge. After removal of some sea fastening devices, preparation of skidding equipment, and the trimming of the Marietje Andrea, the operation started on Sunday at 2:00pm and was completed around 6:00pm the same day.
Monday, the last critical step was the lowering of the Swing Bridge onto its bearing.
April 17 the Swing Bridge was loaded out from a shipyard in the Netherlands onto the transport cargo vessel Marietje Andrea which departed the Netherlands on April 19 for the cross-Atlantic voyage. The vessel arrived on May 03 and transited into the Simpson Bay Lagoon on the same day.
The Simpson Bay Lagoon Causeway falls under the Simpson Bay Lagoon Authority Corporation. The Lagoon Authority aims to ensure that Sint Maarten remains a top yachting destination in the Caribbean while ensuring a safe, secure, pollution free and environmentally sustainable Simpson Bay Lagoon. The Causeway is just one of several initiatives leading to the aforementioned.
Construction of the Causeway started early 2012 and is scheduled to be completed by December 2013. Construction is being carried out by Volker Stevin Construction Europe BV.
The Causeway will improve accessibility to Simpson Bay, the airport and Cole Bay. It will become even more important when the existing Simpson Bay Bridge is open or temporarily out of operation.
The new Causeway will have two round-a-bouts at the Airport Road near the end of the runway and at Union Road near the border. There will be two protected sidewalks for pedestrians and a bicycle track.
The swing bridge is the only element of the Causeway that had to be constructed in the Netherlands. There will be two navigating channels for boats to pass through simultaneously when the swing bridge is open. Large mega yachts will also be able to pass through.
The Simpson Bay Lagoon Authority Corporation, is a subsidiary of SMHG, and has an advisory role with respect to Simpson Bay and the Simpson Bay Lagoon.