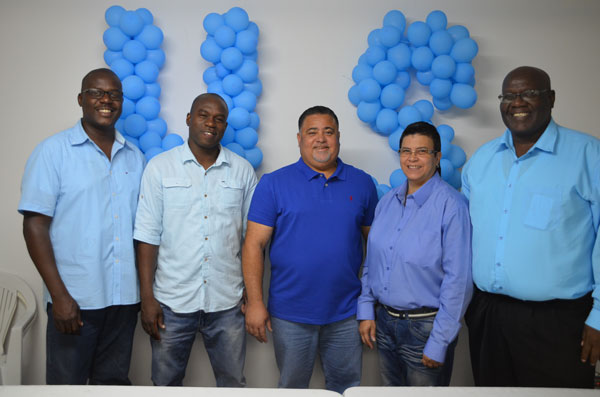 PHILIPSBURG:---Leader of the United St. Maarten party (US) MP Frans Richardson on Sunday introduced three additional new candidates who will contest the September 26 Parliamentary Elections. The US has made an effort to introduce the new candidates in its camp prior to submitting the full list of candidates on Monday, August 8. The entire team of candidates will be introduced on Sunday, August 14 to the public as a special event planned at party headquarters on L.B. Scot Road.
Richardson introduced hospitality and tourism industry professional Early Chalemagne, sport enthusiast Hilary "Coach" Williams and hospitality professional Louella Rog. "Our candidates come from wide backgrounds and sectors but they have one thing in common; they want better for St. Maarten. They exude love for country and they see how the can contribute in their respective fields. I want to thank all of them for stepping up. They are not standing on the sidelines complaining. They are stepping up to make a difference," Richardson said.
Charlemagne said he knows in his heart that he can contribute to St. Maarten with his knowledge in the hospitality and tourism sector. "I feel it is time to stop talking in the background and take an active role," he said. "What matters in the tourism business is high quality customer service, high quality customer care and a great guest experience which will guarantee continuous return business. The best and only way to accomplish all of this is through education and training," He added.
Coach Williams is passionate about the development of sports on St. Maarten and eager to share his ideas with the public in the coming six weeks. In 2008 he started volunteering his time coaching Little League Baseball.
"I have been helping develop young baseball players on the island from 7 years old to 16 years old for almost 10 years. I am currently the coach for the MAC elementary school baseball team as well as the Braves (10 and under), Elle Si Belle (12 and under), Super Clean (13 to 14), and Fast Shoe (13 to 16) teams. I have either managed or coached a St. Maarten's National Baseball team in either age bracket every year since 2010. In 2016 I was a part of the coaching staff that took our 15-16 year old team to Guayama, Puerto Rico. I am well known for my passion for sports by the Little League Organization, parents, friends and family," he said.
His attention will be placed on, among other things, making sport participation mandatory in all schools on the island (emphasis on elementary schools to achieve a strong athletic foundation), acquire MASS participation of all children on the island in one or more sporting activity, to promote a healthy St. Maarten by utilizing athletic activities as a vehicle and structuring strong sport programs on the island that will eventually produce top-class professional athletes. "There is so much I want to contribute, so much that can be done with sports. I am running because I want to be in a position to do more for sports on St. Maarten," he said.
Louella Rog said she has been living and loving St. Maarten for 26 years and have been blessed to be part of the community. "I have seen St. Maarten developed from an island in the Netherlands Antilles to becoming a country," she said.
"Obviously this has brought many challenges. So I've decided now to give my contribution to the further development of country St. Maarten. My core values are honesty, loyalty, perseverance, respect and equality. By joining Frans and the USP I am confident that no matter how small or big my contribution is, it will be considered and respected," she said, adding that the public will soon hear more about her positions on certain topics.