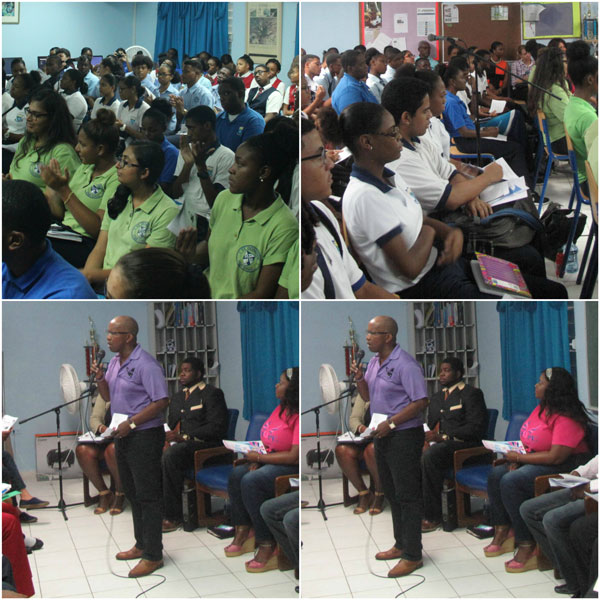 Cul de Sac:--- How will they reduce the brain-drain on St. Maarten, what plans or programs will they put in place to reduce crime among the youth on the island, and how can they diversify the economy instead of us relying on tourism as the major economic activity, were just some of the questions posed during Tuesday's panel discussion by students of several high schools to representatives of the nine political parties contesting the September 26 parliamentary elections.
The event, which was sponsored by St. Maarten Timeshare Association, heated up at St. Maarten Academy's academic campus on Tuesday afternoon under the theme, "Generation Hope; Our Future Leaders".
Sitting on the panel were Ms. Marinka Gumbs of the Democratic Party (DP), Mrs. Mercedes van der Waals-Wyatt Leader of Helping Our People Excel (HOPE), Mr. Cedric Peterson of the National Alliance (NA), Mr. Benjamin Bell of Sint Maarten Christian Party (SMCP), Mr. Terrance Frederick of St. Maarten Development Party (SDM), Ms. Tatiana Arrindell of United People's (UP) party, Mr. Romain Laville of United St. Maarten Party (US Party), Mr. Leonard Priest of One St. Maarten People Party (OSPP), and Mr. Armando Gumbs of People's Progressive Alliance.
The discussion, which was moderated by Distinguished Toastmaster Amanda Vital-Bedminister, kicked off with a simple question that stumped one panelist: What are the three arms of government? In true diplomatic fashion, both Priest and Laville went to the rescue and gave an explanation to the more than 100 students and teachers from host school St. Maarten Academy, Charlotte Brookson Academy, MAC Comprehensive High School, St. Dominic High, and Milton Peters College.
Although some members of the panel circumvented answering some questions, when pressed on issues of the minimum wage and cost of living, the audience was urged to think outside the box and look at other areas that they can utilize their skills. Become entrepreneurs of your own businesses, and as it relates to the struggle of single parents, divest funds garnered from the millions of tourists to education in order to assist minimum wage parents in educating their children.
Ms. Gumbs stated strongly that there needs to be more programmes on St. Maarten to cater to children with special needs, especially within mainstream schools. On the topic of building a new hospital, former Member of Parliament Laville said people should not only be focused on getting a nice looking building and equipment, but qualified personnel. They should seek to ensure that the care offered is up to par. He pointed out that despite the condition of the building of the Louis Constant Fleming Hospital on the north of the island, the quality of care is known to be good.
Most students felt that the panelists did not discuss how the government would go about promoting norms and values in the country. Nonetheless, the identity issue was a hot topic and all panelists said people should be considered St. Maarteners once they were born here.
All panelists were given three minutes to present their platforms and two minutes to answer questions. All persons were cautioned to discuss issues, not personalities in order to generate a healthy discussion.
Other issues such as education, health care, employment, and identity were raised by the students and aptly handled by the party representatives. The two-hour session had to be extended, as students insisted on being heard.