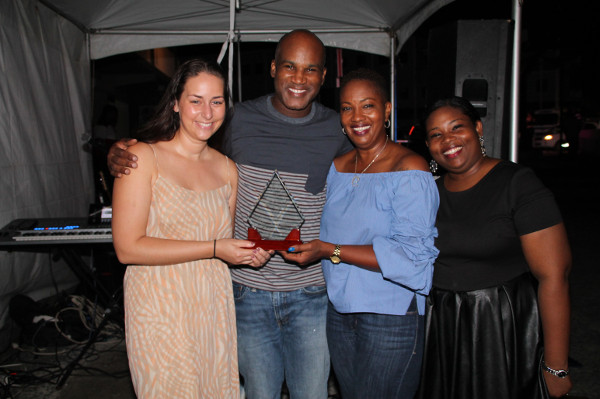 PHILIPSBURG:--- The events leading up to St. Martin Day 2017 continues this weekend with the continuation of the Hurricane Heroes Social – Happy Hour edition in honor of G.E.B.E . Last Saturday, The Hurricane Heroes Social kicked off at Laser 101 where the Laser Storm Watch team was honored and uplifted during the event. This week, the Ministry of Education, Culture, Youth and Sport in collaboration with Fred York will be honoring NV G.E.B.E as their employees have been working around the clock to restore electricity and water to all. Within a few days after monster Hurricane Irma, NV G.E.B.E was able to begin restoring electricity and water as well as the dispatching of water trucks into the districts. To this day, we can still observe NV G.E.B.E hard at work to normalize our situation in St. Maarten and for that, we are humbly grateful. This Friday, November 3rd, 2017, Fred York and Friends will be at the G.E.B.E parking lot in Philipsburg from 6pm to 9pm playing different genres of music with local musical talent. This event is open to the public and everyone is invited to join in on this celebration.
On Saturday, November, 4th 2017, the Youth Debate will take place from 6:00 pm to 9:30 pm at the New Government Administration Building in the Conference Room on the Ground floor. The debate is between the Hyacinth Richardson Educational Foundation versus the Joint Team of the St. Maarten Youth Parliament and Conseil Territorial des Jeunes de Saint-Martin. The debate will be led by the MOOT "To be identified as a St. Martiner, Cultural Identity is More Important Than Nationality" and the Ministry is inviting the public to come out and support the debaters and join the discussion.
Ending the weekend, on Sunday, November 5th, is the Portraits and Poetry Event at the Marigot Waterfront from 1pm to 5pm. The Portraits exhibition begins at 1pm, in which local photographers will be given the platform to showcase their photography of St. Martin pre- and post-Hurricane Irma. The idea of this exhibition is not only to showcase the damage that St. Martin has sustained but also how the island is already rebuilding less than two months after Hurricane Irma. These photos will show the resilience of the people of St. Martin and depict the true nature of #SXMStrong. At 2 pm, the Spoken Word session will begin showcasing poets from both sides of the island with musical interludes from various local artists.
There are events this weekend that everyone can enjoy and the Ministry is inviting everyone to come out and support our local talent that are working very hard to entertain and uplift the community for the love of St. Martin. For more information regarding St. Martin Day festivities, please feel free to contact Janelle Presentacion on weekdays at 520-1638 between the hours of 10am and 3pm or via email at This email address is being protected from spambots. You need JavaScript enabled to view it..
Press Release from the Ministry of ECYS