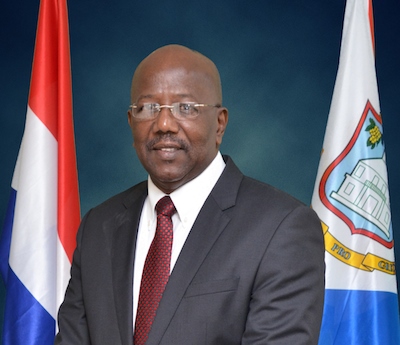 Fellow St. Martiners,
This St. Martin Day is like no other that we have celebrated since this holiday was established jointly by two St. Martin patriots in 1959, the late Dr. Hubert Petit and Dr. Claude Wathey. Their intention, as I understand it, was to bring all the people of the island together, from Great Bay to Marigot, from Middle Region to Hameau du Pont, from French Quarter to Dutch Quarter, and from Simpson Bay to Galisbay, St. Martin people from all four corners of the island, to join hands and hearts together to celebrate our St. Martin-ness, that special bond that sets us aside from other people and makes us family.
Fifty-eight years later, that concept, that ideal, still holds true, at least in the minds of all true St. Martin patriots. No doubt, St. Martin Day is for all those who genuinely love this island we call home, this Rock that we have inherited as our own portion of Paradise. But no one can love this island more than we do. No one!
I don't know when the Day became an occasion for flowery speeches about unity delivered by appointed and elected officials from both halves of the island, but what is clear is that our unity has been put through a severe test, by those who are responsible for dividing us in the first place.
I make haste here to quote the famous novelist J.K. Rowling, who wrote the following memorable words in Harry Potter and the Goblet of Fire: "We are only as strong as we are united, as weak as we are divided." In the aftermath of the worst natural disaster in our collective history in the form of the most powerful storm to ever hit this region, super Category 5 Hurricane Irma, it behooves us to pause for a moment and meditate on the now famous hashtag and ask on this St. Martin Day, are we really and truly SXM strong, or have we allowed ourselves to be weakened by desperation, despair and disappointment as well as a loss of faith in ourselves?
For me, this St. Martin Day is about lifting up our spirits, renewing our strength by returning to those very same core values that made us survive and thrive throughout our history, when others had written us off, demanding of us that we bow our heads and beg. But let me say this loud and clear: St. Martin people have never been beggars and by God's grace, we will never have to beg for our survival.
As we embark on rebuilding our island, house by house, business by business, street by street and district by district, we must do so together - North and South - as one island, one people with one destiny. After all, neither Irma nor Maria stopped at the border when they hit us with such destructive force that instead of turning to one another, we turned against each other, forgetting as American poet Gwendolyn Brooks said so beautifully that "We are each other's harvest; we are each other's business; we are each other's magnitude and bond."
Isn't that what we mean when we say that we are our brother's and sister's keepers?
Yes, we will have disagreements, even disputes, as all families do. And, yes, we should be able to tell each other some home truths, no matter how bitter these may be. But they should never lead to such bitterness that we can no longer talk to each other and work with each other. St. Martin is our home; we have no other place we call home.
Surely, we have some huge challenges ahead of us and there is no doubt that we will need the help of our friends, real friends, true and respected partners, to overcome them. But must we be humiliated and sell our souls and our island for how many pieces of silver? Absolutely not! Are we grateful for all the assistance we have received and all the help we have been promised? Definitely so! Gratitude is an essential part of our DNA as St. Martiners. However, as much as we have been raised to be grateful, we have also been brought up not to take advantage of others, especially when they are down. As a people, we may be down now, but we're not out. We're coming back, stronger, smarter, better, together, as we have done over and over again in the past, going back to plantation days. That is why we are still here today. Let nobody write us off, for we come from a very resilient stock; a very strong breed.
On this St. Martin Day, I urge all of us to dig deep into our hearts and ask ourselves: what can I do to help rebuild this island to be better, stronger, more united, more resilient and friendlier, so that generations to come can look back and be proud of us. That is what SXMstrong should mean, today and every day of our lives.
Happy St. Martin Day!