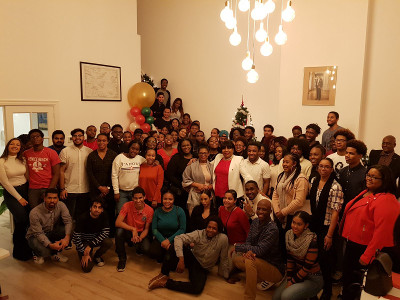 THE HAGUE, Netherlands:--- Minister Plenipotentiary of Sint Maarten, H.E. Henrietta Doran-York, together with her staff, hosted the Sint Maarten students at her Cabinet in The Hague on Friday December 15th 2017, for an end of year "unification", which was the first of what will continue to be an annual event.
Minister Doran-York said that she organized this event for the students, as she was aware that the majority of the students would not be able to return home for the Holiday season, and therefore offering them the opportunity to come together, will give them the chance to unite with especially their peers.
The event, which was attended by students from all Cities in the Netherlands, served as an encouragement for some of Sint Maarten's brightest and best in The Netherlands, as for in particular the first year arrival students, this is a very difficult time of year, where they often times can become discouraged due to the missing their family that they recently left.
The Minister reminded the students to continue to make use of the Cabinet, in the event that the assistance of the Minister or the staff was needed, as the Sint Maarten House, is their house.
Minister Doran-York encouraged the students to work hard always and in the end, they will reach their desired goals.
Special thanks also to the Staff at the Cabinet, in particular, Kelly Busby, Guidance Councilor Xaviera Mc. Donald Archangel, Glenn, Tasika, Germaine, Louisa, Edna, Irma, and the ever helpful students who all volunteered their time to assist with the event.
The Minister wished them all a very enjoyable Christmas season, and a prosperous and bright 2018 when it rolls around.