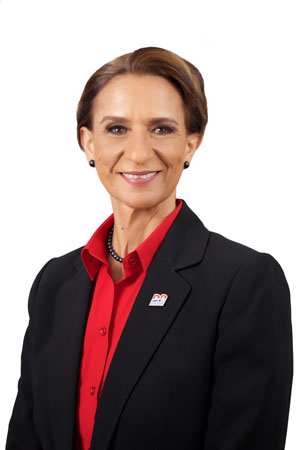 HARBOUR VIEW:--- On December 22, 2017, the Governor of Sint Maarten, His Excellency drs. E.B. Holiday, requested the fraction leader of the Democratic Party, Mrs. Sarah Wescot-Williams, to finalize the formation of an interim government as formateur.
After Mr. Meyers returned the commission to form a new government on December 20, 2017, the Governor held consultations on December 21 and 22, 2017 with Mr. Meyers, Mr. Brownbill, and Mrs. Wescot-Williams. These consultations were a result of the declaration of October 29, 2017, signed by the United Peoples Party, Democratic Party, and MP C.E. Brownbill to form a new Government, the motion of no confidence passed against the Cabinet Marlin II and the decision of the Council of Ministers to dissolve Parliament.
Based on the consultations the Governor requested Mrs. Wescot-Williams to finalize the formation of an interim government supported by a majority in Parliament. A government that consists of ministers who are committed to the promotion of the well-being of the people of Sint Maarten and who are dedicated to the reconstruction of Sint Maarten.
As with Mr. Meyers, the Governor requested the formateur to form an interim government that dedicates itself to take immediate action to conclude the development of a recovery plan, to reach agreement with the Netherlands on the financing of the recovery plan, to cooperate with the social partners in rebuilding Sint Maarten, to revisit the budget for 2018, to develop a plan to strengthen security, to execute the agreement with the Netherlands on border control, to implement the law on the integrity chamber in accordance with the protocol with the Netherlands, to the execution of the elections and to take steps to realize electoral reform.
The Governor further emphasized the importance of the strict observance of the regulatory requirements including the screening criteria, applicable to the appointment for candidate-ministers.
The formateur took the commission into consideration and will inform the Governor regularly during the formation process. The Governor requested Mrs. Wescot-WIlliams to present him the final report of the formation process ultimately January 12, 2018.
From the Cabinet of the Governor of Sint Maarten