~ Irma and Maria showed the vulnerabilities of Caribbean Islands ~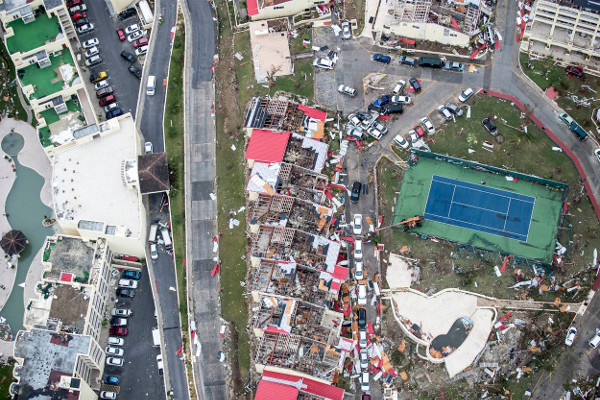 ST. MAARTEN/ST. MARTIN:--- The 2017 hurricane season was undoubtedly the worst season in decades, especially since the monster hurricanes Irma and Maria devastated several Caribbean Islands that depend solely on tourism. Some of the islands/ countries that were crushed are Barbuda, St. Martin/St. Maarten, Dominica, Martinique, Guadeloupe, and Puerto Rico.
When it comes to St. Maarten/St. Martin hurricane Irma showed how important it is to not place all of one's eggs in one basket, and even though an eye opener for many, politicians on St. Maarten chose to use the devastation of the people for political mileage while leaving their people to suffer.
In a time when political leaders should unite for the benefit for their people (constituents), Irma brought out the ugliness of politics and how power can make people selfish not considering those that elected them to office. The people of St. Maarten/St. Martin suffered immensely especially since 95% of the buildings on the island were damaged, almost everyone sustained some type of damage to their homes and businesses yet politicians found the time to take relief items to use as campaign materials. Tarpaulins and other relief items that were sent by donors were picked up by politicians who chose to sport the color of their political parties while distributing these items to the vulnerable. Elected members of the council used government bonds to purchase diesel to keep their businesses up and running while others collected diesel for their homes. Politicians removed generators from schools and took it home leaving many shelters without electricity, water and other relief items that were sent for the people were taken to a hotel that belongs to one Minister.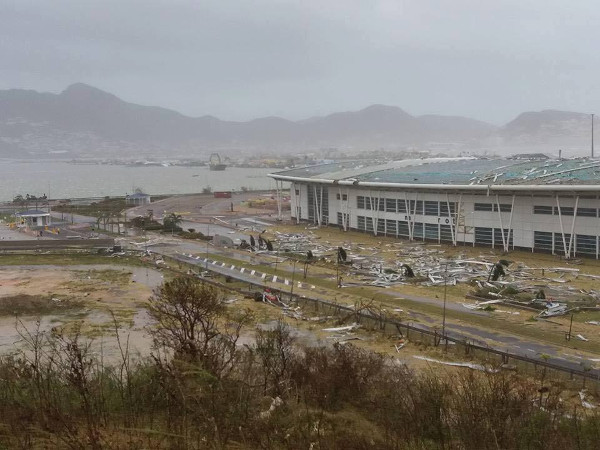 At least two weeks after the passing of Irma the people on St. Maarten could not receive any relief items even though planeloads of those items were brought in from several countries. Those from the Dutch side queued up on the French side to receive basic food items since they were simply forgotten by the people they elected to stand as gatekeepers. It was at that time those in authority chose to place huge containers at the border in an attempt to divide the people that had to bond closer since they were either seeking food or shelter from relatives on either side.
Even though the countries received visits from the King (twice in three months) and the President of France it is clear that the two heads of State only brought along empty promises because three months later after the passing of Irma, people are still standing in long lines for food bonds, while they are patiently waiting on aid to rebuild and repair their homes and businesses. While the people are clearly suffering, politicians over the Atlantic are busy setting conditions for relief items while those locally (Dutch) are preparing for elections. The passing of hurricane Irma brought out the ugliness of people in all category, politicians showed exactly how important it is for them to hold power and in order to maintain that power they destroyed each others character while the common people both young and old chose to loot from businesses and even robbed some that were roofless and homeless.
It also shows how weak the country's infrastructures are such as telecommunication, water distribution, and entry port. Many people still do not have a place to rest their heads or a place to call home and not having a job or proper income because of the amount of businesses that were forced to close their door simply because the cruise and tourism industry was crippled since September 7th. Several hotels are closed, the harbour and airport sustained immense damages that will take years to repair or reconstruct.
Water and Electricity.
At least one week after Irma, residents on Dutch St. Maarten did not even have drinking water. Many of them rushed over to the French side to quench their thirst simply because GEBE did not do due diligence in ensuring that they stored enough water prior to the landfall of Irma on September 7th. Water was actually disconnected about 12 hours before the hurricane, the water production plant shut off their lines to safeguard their machinery. Eight of GEBE's water tanks were totally destroyed and to date are not repaired. Tarpaulins that were provided to GEBE management to cover those tanks in preparation for hurricane Maria were not used for the given purpose.
Even though GEBE prides itself for restoring electricity days after the devastation, there are several areas on the Dutch side still in darkness, residents were forced to pay GEBE workers to dig trenches in order for them to get electricity. A scam that was eventually reported because residents and homeowners said that they were charged $60 per household for the trench digging even though the Dutch Government dispatched excavators that were given to GEBE.
Telecommunication
Communication on St. Maarten crippled on September 7th, thus creating havoc on the badly devastated island, because of the lack of electricity, phone communication and displaced police officers, looters took over and caused ten times more damage to the country. Businesses that were not damaged by the wrath of the hurricanes were damaged by the lawless looters, thus forcing many supermarkets to close their doors.
While TELCELL managed to provide minimal service throughout the hurricane, phone services were interrupted for days if not weeks thus forcing overseas relatives to choose the airways to find their love ones. Three months after the massive storm Chippie (UTS) still cannot provide full and proper services to their clients. Orange and Dauphin Telecom managed to provide mobile Wi-Fi within a day or two after September 7th however, that did not stop the looters destruction. Due to the destruction landlines and ADSL internet services on the French side seems very far from being fully restored as there has not been any information as to when these services would be restored. Seemingly, the local government does not understand that internet services is not vanity but in fact businesses on St. Martin (especially those in the tourism sector) need the internet to get back up and running. Even garment stores and supermarkets need the internet to purchase much-needed items (produce) in order to keep their doors open.
It is clear that the government of St. Maarten/ St. Martin needs to get back to the drawing board and to allow other telecommunication companies to invest on the island especially if they are able to show that they can sustain the industry through a category 5 hurricane. It is certainly not wise for government to gamble with the future of the county by maintaining a moratorium in the telecommunication industry especially when those that have it in their hands clearly showed they are not capable of providing and protecting the basic need of the community.
Housing/Sheltering/Building Materials
Many residents that were forced to leave their homes just prior to the landfall of hurricane Irma faced major problems because governments on both sides of the island chose to open the shelters at the very last moment. After the passing of Irma, those that became homeless were seen walking around with a mere sack on their backs. Three months later many families are still living at Festival Village, the emergency long-term shelter that was provided by government. On the French side of the island, many people managed to obtain tents while many people remained in their homes trying to survive one day at a time as they wait on either insurance monies or help from the State.
There are those on both sides of the island that chose to rebuild and repair their properties with the little savings they had but that process was severely hampered due to the lack of building materials, especially because many hardware stores were also damaged by the hurricane and the looters.
Food Supply/Vouchers.
Several weeks after the passage of Irma food supply was limited, there were people who simply did not have food for their young children and elderly. Those living on the French side of the island had it much easier as the Red Cross, Sécurité Civile and other associations and foundations came together and went house to house ensuring that water and food supply were provided. The French Government also came up with a very strategic plan by issuing a prepaid card that can be used at stores on the French side. Even though there were long lines where the cards were being distributed the process went very well. However, on the Dutch side, the distribution of bonds was not at all organized even though the Red Cross and the government were responsible for giving out the bonds. One of the major complaints received is the unfair distribution of the bonds as some families received many of the bonds due to contacts while some people in deprived situations could not obtain one.
Health Care: LCF and SMMC, Pharmaceutical supply.
Both hospitals namely St. Maarten Medical Center and the Louis Constant Fleming Hospital were severely damaged but the health care workers managed to provide the necessary services such as evacuation shortly after the passage of hurricane Irma. However, due to the damages and looting, most pharmacies have closed their doors simply because their properties have been destroyed and ransacked while they are still awaiting their insurance companies to pay out in order for them to either rebuild or repair. The main distribution center at Hope Estate has been completely destroyed forcing the two functioning pharmacies to seek their supplies in Guadeloupe.
Despite the devastation and the hardship, the people are facing there are a few teams of people that stood out amongst the crowd even though they themselves suffered damages to their homes. Those that did everything to make a difference in a time when the country was in distress. Those teams are Laser 101 Hurricane Watch Team, the Dutch Marines, the French Army, Sécurité Civile, Croix Rouge (Red Cross,) EDF, and GEBE linesmen.
Click here to view photos of the damage caused by Hurricane Irma.