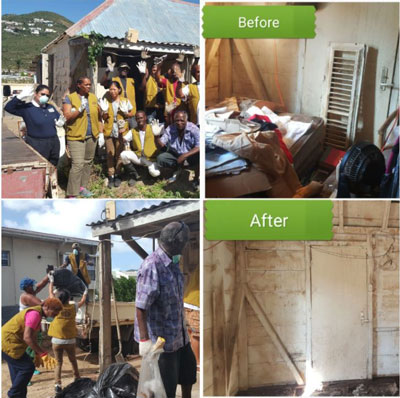 PHILIPSBURG:--- The St. Maarten Tzu Chi Foundation and its volunteers on Sunday began the process to repair the home of a local resident which was severely damaged by hurricane Irma, which battered the island in September last year.
The damaged home is located on Bush Road and it represents the first housing project to be executed by Tzu Chi Foundation following the devastating hurricane.
The project is being executed in collaboration with Key to Freedom Foundation and its Director Elvision Adamus. Key to Freedom clients will be involved in the repair work to the home.
The home being repaired was badly damaged by the hurricane and currently has no flooring. The first stage of the project, which began Sunday, was to remove all the debris and garbage from the home and to power wash the entire building – both interior and exterior.
The second stage will be to fill the flooring of the interior of the home with at least two truckloads of dirt, which will be compacted for the construction of a stronger flooring for the home. The third stage will be to replace plywood and treat the property for termite infestation. The fourth stage is repairing of the roof of the property, which will then be painted in the fifth stage.
Cabinets will also be erected on the interior of the property and the exterior of the building will be painted and decorated.
The project will be executed from Mondays through Fridays from 8:00 am to 4:00 pm and on weekends volunteers will work from 1:00 pm to 5:00 pm. Tzu Chi will be providing lunch, snack, and drinks to volunteers, who will be participating in the initiative.
Tzu Chi estimates that the entire project from start to finish will take about two weeks.
Tzu Chi Commissioner Sandra Cheung said the Foundation is happy to be embarking on a project that will bring peace and comfort and provide a roof over the head of a resident, who had been affected by the devastating winds of hurricane Irma.
She thanked Key to Freedom, Adamus and all the volunteers who are part of the project for their willingness to give a helping hand to assist in this initiative.