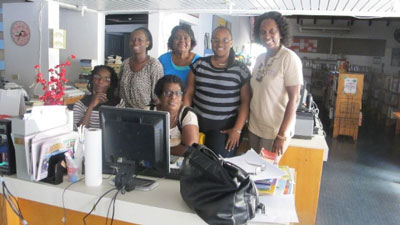 PHILIPSBURG:--- Information Services Manager of the Philipsburg Jubilee Library, Irmin Hughes- Richards celebrated her 40th years of services to the library on Wednesday 13th February 2018.
Irmin Hughes Richards fulfilled many roles from Circulation and Book Mobile Clerk; Circulation Supervisor; Assistant Librarian; Human Resource Officer; Member of the Management Team and currently Information Services Manager.
Mrs. Irmin Hughes –Richards stated "In my own way, I, no as she corrected herself, we as staff have done all forms of work from parenting, educator, guidance counsellors, supporters, advocates, caretakers, humanitarian officers, confidants, advisors and customer service which took me through almost all the ranks of St. Maarten's library life".
Irmin Hughes – Richards started out from humble beginnings in St. Maarten Cultural Center which housed the Philipsburg Jubilee Library, as a young shy girl as described by Ans Koolen (former director).
Irmin Hughes _ Richards stated that "there was an opening back in 1978, the interview went well with the then director of the library Mrs. Blanca Hodge, and I automatically got the job. Over the years I have progressed, and even though there have always been challenges to be met to assist one with growing that caused me to achieve what I have and who I am today.
For 40 years Mrs. Irmin Hughes –Richards has dedicated her services to assist the patrons by providing quality information services and assisted the library through its' an upward evolution.
In recognition of Irmin Hughes-Richards unwavering services to the Philipsburg Jubilee Library, a staff luncheon will be held in her honor on Friday, February 16th, 2018 Afternoon. In order to facilitate the abovementioned celebration the library would like to announce that we will be closed to the general public at 12 pm and will reopen on Saturday 17th, 2018, at 10 am to 1 pm.
The Philipsburg Jubilee Library Board, Management, and Staff congratulate Mrs. Hughes – Richards on this milestone in her career accomplishments.