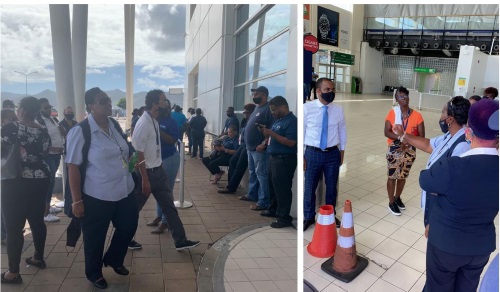 ~ Lack of liquidity stifles airport budget.~
PHILIPSBURG:--- Workers at PJIAE supported by the ABVO are currently in industrial action as of early Wednesday morning. SMN News learned that the employees are protesting the proposed salary cuts, vacation pay, bonus, and the reduced salaries proposed by management of PJIAE.
SMN News learned that the union and its workers submitted a letter to the government and the boards of PJIAE on Tuesday.
SMN News asked Prime Minister Jacobs for an update on the ongoing industrial action at PJIAE. Prime Minister Jacobs said that Minister of TEATT Ludmilla de Weever left the COM press briefing to attend the ongoing industrial action at PJIAE. Jacobs said that the management of PJIAE informed the government that the airport had intended to make deeper cuts than the 12.5% requested by the Dutch Government. Jacobs said that PJIAE has been out of liquidity prior to the COVID-19 impact on St. Maarten and the actual shutdown.
The Prime Minister further said that she is hopeful that the Minister of TEATT who is currently at the scene will have the issues resolved at its earliest since the government-held two meetings with PJIAE as they are working on the reopening to visitors to St. Maarten.
Minister of Labor Richard Panneflek said he had to postpone a meeting he had scheduled with the WICLU, Panneflek said he intends to meet with all unions to address their labor concerns.
In the meantime, Chairman of Parliament Rolando Brison, MP Grisha Marten Heyliger, and Minister of TEATT all went to the PJIAE where they addressed the workers who continue to protest despite the efforts of elected members parliament and the Minister of TEATT.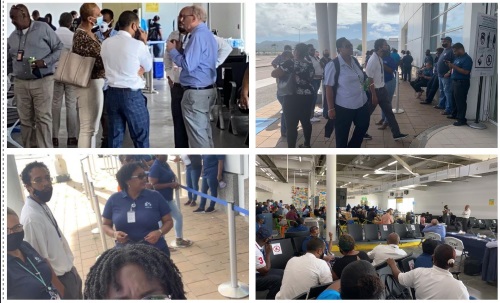 Click here to read the official letter sent to Government and Boards of PJIAE on behalf of workers