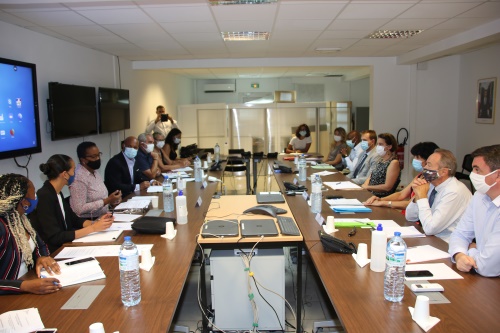 PHILIPSBURG:--- On Wednesday, September 23, 2020, Prime Minister Silveria E. Jacobs, Head of Collective Prevention Services (CPS) Eva Lista-de Weever, and Interim Head of the Department of Foreign Affairs Patrice Gumbs together with President of the Collectivité of Saint-Martin Daniel Gibbs attended a cooperation meeting held by Préfète Déléguée of Saint-Martin and Saint Barths Sylvie Feucher along with her Secretary-General Mikael Dore and Director of the Regional Health Agency (ARS) Valerie Denux to discuss matters of public health in regards to COVID-19.
During the meeting, Director of the ARS Denux and Head of CPS Lista-de Weever discussed the status of COVID-19 on both sides of the island. Both health professionals also elaborated on the possibility and conditions necessary to enhance further cooperation on joint health protocols for both sides of the island in order to combat COVID-19 collectively. The result of these discussions will be to further build on the already existing cooperation as was established in the MOU. Among the various areas of collaboration that were discussed. The creation of a joint testing center with the capacity to test both our visitors and residents was the main focus of the discussions.
Prime Minister Jacobs is very satisfied with the outcome of the meeting held as much agreement and willingness for collaboration was expressed by both parties. Prime Minister Jacobs looks forward to the technical outcome of the follow up meetings which could lead to the establishment of a framework that can improve synchronization of measures and ensure free movement around the island. "As commonly agreed during the meeting, despite our two parts, we are one island, thus, the need for coordination of our approach to combatting COVID-19 is paramount. Throughout the varying measures taken by both our sides, our health agencies have continued to work together diligently based on the parameters of our Memorandum of Understanding. As we move into this new phase, we both mutually agreed that finding common reference points and indicators to addressing the pandemic is best for the long-term health and socio-economic relationship between our two sides," stated Prime Minister Jacobs.
St. Maarten's active cases decreased tremendously over the past several weeks due to raising awareness in the community as well as the commercial business closures that lasted one month. "Though testing capacity remains more of a financial and human resource challenge, the St. Maarten Medical Center's COVID-19 related admissions have been consistently low over the past 7 weeks. As such, it is now known that to overcome the fight against COVID-19, it is not about not moving, but more about moving smart," concluded Prime Minister Jacobs.