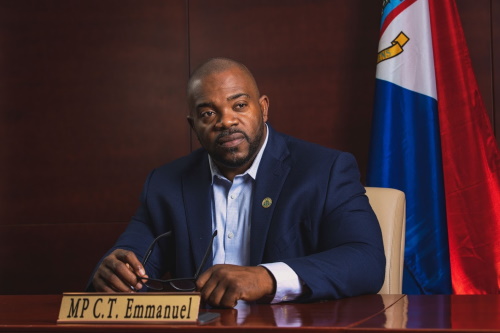 PHILIPSBURG:--- Independent Member of Parliament Christophe Emmanuel on Sunday said members of government need to stop with unbecoming behavior, be transparent with the public, follow its established protocols and stop trying to deflect with empty, evasive press releases. "CPS protocols are in place to protect people. Leaders in this country should avoid undermining them with irresponsible actions," the MP said.
The MP was referring to Minister of VSA Omar Ottley's response to reports that he and the President of Parliament Rolando Brison attended a gathering at Lotus Night Club after the stipulated 11 pm closing time on Friday last. The MP noted that over the weekend several drips of information started to come out from the Minister as well as the President of Parliament via the media.
Firstly, MP Claudius Buncamper tested positive for Covid-19 on Thursday, August 19. By then he had exposed MPs and others. MP Brison knew he was exposed and reportedly did not quarantine himself. He instead went to the airport to welcome Anthony Davis and others and exposed everyone in the process. According to media reports, MP Brison only went to test on Friday morning and, if reports are accurate, received a negative test at 9.20 am, Friday morning.
MP Brison is also reportedly not vaccinated and a negative test does not mean he would have been released from quarantine, only that he had to take another test in a few days according to the established COVID-19 protocols by CPS. Any other behavior is contrary to what the government and CPS have officially established. MP Brison as well as Minister Ottley and another MP were seen at Lotus Night Club on Friday night after the established closing time of 11 pm and after the police tried to close the venue.
Minister Ottley responded to questions posed publicly by MP Emmanuel by stating that he did not give permission for the venue to remain open and the event to continue past 11 pm. However, the Minister did not clarify if the event actually continued after 11 pm and if he was present after 11pm at the event.
MP Emmanuel noted that Minister Ottley's Ministerial Decree regulating the current closing hours from 11 pm to 6 am states that all bars, night clubs, dance clubs, restaurants, and places rented out for parties and events, should be closed between 11 pm and 6 am. Any violation of the business hours is punishable with 4 months detention or a fine of Naf. 5,000 (art. 8).
MP Emmanuel said the type of behavior exhibited by MP Brison, Minister Ottley, and whomever else over the weekend is unacceptable and they must be held accountable for it. These are serious times. While some are fighting in SMMC and struggling in a tough economy, there are public officials acting against their own regulations just because they want to party," the MP said.
He continued: "The Minister responded by saying he is disappointed with political figures who spread rumors and that these figures know where to get information. The Minister doesn't seem to understand that he is a public official and his government preaches transparency.
"I am also a public official and I believe the public is owed an explanation if their government officials act in contravention to the same regulations they expect members of the public to abide by. I didn't spread any rumors, members of the public saw you. Don't respond to questions by answering just one and hoping it would suffice to cover all. He should be more disappointed in their behavior. Stop these embarrassing excuses and childish deflecting," Emmanuel said.
According to Emmanuel, several questions remain unanswered: Were Minister Ottley and MP Brison at a private party at Lotus on Friday after 11pm? Did Minister Ottley or MP Brison allow a private party to continue at Lotus against regulations? Can every club owner also pull this trick after 11pm and tell people not to go home, the event is private? Will Lotus or the event organizer be fined? Who actually organized the private party? Did the government of St. Maarten contribute anything financially for this event or any related event for persons associated with the Laker organization?