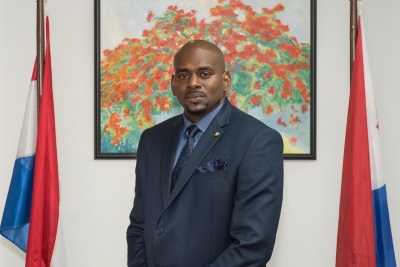 PHILIPSBURG:--- On August 27th, 2021 Minister of VSA, Omar Ottley, held his first 'community day'. The Minister announced in his August 4th press briefing, that on the last Friday of each month, he will prioritize meetings with members of the community to share ideas on how he can better assist the community and discuss issues that may be affecting them.
" While my position as Minister is based on appointment, I was an elected official". An elected official is the representative of the people and what better way to represent the people than to hear from them directly.
Ottley informed the media that on Friday he held a total of six (6 ) meetings with individuals and businesses. Some community members offered their suggestions on: how to improve the substance abuse on the island, vaccination promotion, and labour issues. Some persons shared their personal challenges with the Minister, in which he was able to guide them through the correct steps and channels.
The next 'Community Day' will be held on Friday, September 24th. Although there are many requests for meetings, the Minister still encourages all interested persons to submit their requests at This email address is being protected from spambots. You need JavaScript enabled to view it..
For the time being, the meetings are being held virtually and persons are required to include their full name in the email, along with an agenda. The agenda may contain maximum of 3 subject matters to be discussed during the meeting.