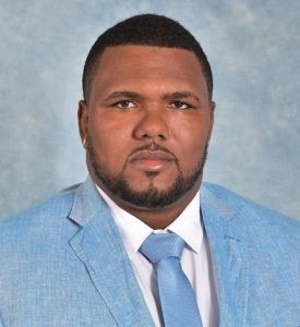 PHILIPSBURG:--- On Friday, (October 29th) Member of Parliament (MP) of the United St. Maarten (US) Party, Akeem Arrindell fired off letters to Minister of VSA, Omar Ottley, and Minister of Justice Anna E. Richardson.
In his letters to the Ministers, MP Arrindell expressed his concerns with the current practices in place when handling persons challenged with mental health. The MP's concerns surround the staff who have to deal with and handle violent patients almost on a day-to-day basis, with limited training to do so.
In his letter to Minister Ottley, MP Arrindell inquired if there are guidelines in place for the recording of incidents involving mental health patients in order to facilitate the reporting and reviewing of incidents for mental health care services with the aim to improve the quality of service provided to the patients? The MP's main concern is the service provided to mental health patients and the safety of the patients and the staff providing the service, as mental health patients can in some cases become violent and pose a danger to themselves and to others around them. MP Arrindell, therefore, questioned if the staff compliment at the institution was sufficient and if they possess the skills to deal with and handle violent patients. The MP queried if the Police force provides assistance in such cases, and wondered if nurses can be trained to execute similar duties.
In his letter to the Minister of Justice, MP Arrindell questioned if the police force (KPSM) still provides assistance to the Mental Health Foundation (MHF) as was agreed upon in the protocol of December 10, 2018.
If KPSM has terminated its protocol to render assistance to MHF, are there policies in place for KPSM to continue rendering assistance to the workers of MHF, specifically to the nurses who are directly involved in restraining violent patients, MP asked?
MP Arrindell delved into the minister's commitment of July 25, 2021, to launch an in-depth investigation into the death of a mental health patient, who died whilst in detention in a holding facility at the House of Detention under supervision of MHF, and questioned if the minister had received the outcome of this investigation. Furthermore, the MP wanted to know if the House of Detention still provides a facility to MHF for the temporary placement of their clients. The MP also wanted to know if the patients are accompanied by police officers when being transferred to the House of Detention, and how long the patients are held in isolation at the House of Detention.
The MP suggested having some nurses trained as "Buitengewoon agent van Politie" to deal with and handle violent patients as a solution to the current problems and asked the minister of justice if she would consider such a solution.