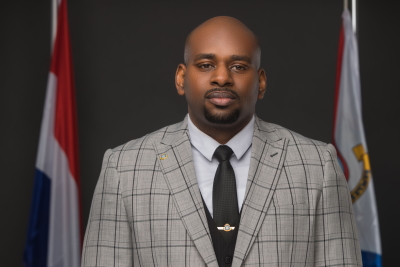 PHILIPSBURG:--- Minister of Labor Omar Ottley seemed very furious about statements made on a radio program that said the current government is busy with a political stunt when they said they did a study in order to increase the minimum wage.
Ottley said that the indexation for the year 2020 was 1 cent and this was done by the Minister of VSA who was in office at the time. The Minister said for that reason he did not mention 2020 in his indexation and he was sure that many persons in St. Maarten were not aware of the one-cent indexation. He called on a certain set of people to stop complaining when he as Minister of Labor is trying his best to do something for his people because when they needed to complain they did not.
Ottley said he as Minister of Labor did ask for cost-of-living assessments and has obtained an advice obtained from the SER. He said currently the SER is asking for more information, while the statistics department will be conducting a census this year in order to continue gathering information.
Ottley said that the minimum wage increase will take some more time. The Minister said that while his ministry is working on the increase of the minimum wage he cannot divulge numbers because he does not want to give anyone false hope. He said the process is not yet finalized but when it's completed he will make the amount public.