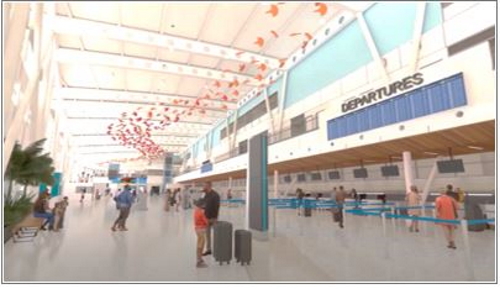 ARUBA:--- AIB Bank N.V. is pleased to announce that on Wednesday, May 11, 2022, it successfully concluded the refinancing of existing Senior Secured Notes for the Princess Juliana International Airport in Sint Maarten. The transaction of USD 90 million was funded by a consortium of seven local and regional financial institutions put together by AIB Bank N.V. as Mandated Lead Arranger.
AIB Bank N.V. is grateful for the confidence entrusted to it by Princess Juliana International Airport, which selected AIB Bank as Mandated Lead Arranger in a public tender in 2021. We truly respect the professionalism and experience demonstrated by the CFO of the airport, Mr. Ben van der Klift and his team throughout the course of structuring and executing this transaction, contributing to realizing substantial benefits from refinancing the former bond loan. This new syndicated loan facility brings substantial savings on interest and loan-related legal fees, is structured under the laws of Sint Maarten, and frees up significant cash flow to assist in the recovery and renovation of Princess Juliana International Airport.
This is an important transaction also for participating financial institutions in Sint Maarten and the region. The confidence shown by the regional finance community in Sint Maarten, its economy and the airport organization in particular by being part of this transaction in very competitive conditions indicates that Sint Maarten is emerging strongly from setbacks by natural disasters and the pandemic.
AIB Bank N.V. would like to thank Stichting Algemeen Pensioenfonds Sint Maarten, RBC Royal Bank N.V., Ennia Caribe Leven (Aruba) N.V., Sagicor Life Inc., Stichting Vidanova Pensioen Fonds and Foundation Pension Fund Isla Curaçao for their participation as lenders in this consortium together with AIB Bank N.V., and congratulate them on the successful conclusion of this transaction. Finally, AIB Bank N.V. would like to thank all those who participated in realizing this successful transaction, including Spigt Dutch Caribbean who acted as deal counsel to AIB Bank N.V. and the consortium, Simmons & Simmons LLP as borrower counsel, and the syndication team of AIB Bank N.V. The members of this finance consortium are proud and honored to contribute to the further development of the Princess Juliana International Airport in Sint Maarten.