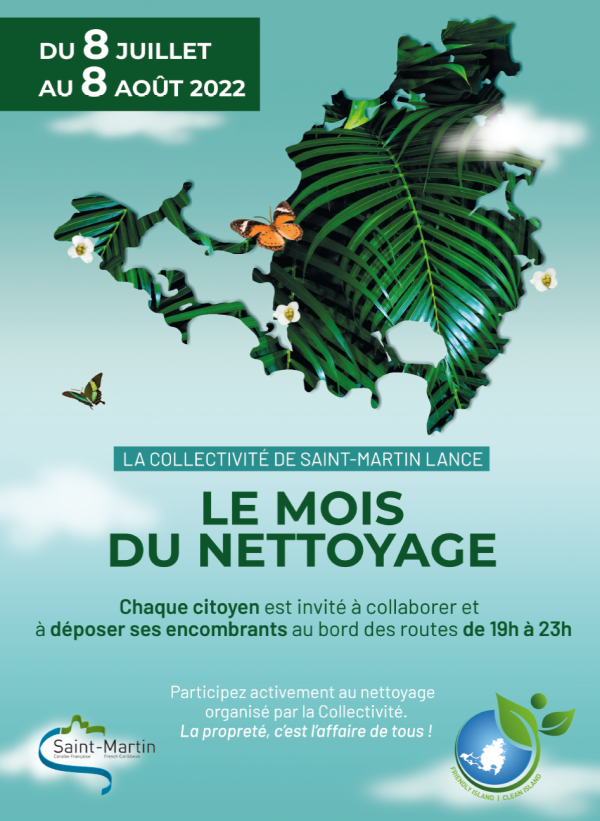 MARIGOT:--- The Collectivity is launching a big collective cleaning from July 8th to August 8th!
The Collectivity of Saint-Martin, under the leadership of President Louis MUSSINGTON and his team, is launching a major collective clean-up from July 8 to August 8, 2022, in all the districts of Saint-Martin.
The Collectivity wishes to clean up the territory before the high hurricane season and is asking the population to join in this effort by cleaning up the private domain and evacuating its bulky items to the side of the road.
During this period, the services of the Collectivity and service providers will collect these bulky items as they are deposited on the side of the roads.
To avoid inconvenience in the middle of the day, bulky items must be left by the side of the road between 7:00 p.m. and 10:00 p.m. They are then collected from 11:00 p.m.
Each citizen is invited to do his or her part and clean up their place of habitation. The Collectivity also calls on construction companies, condominium trustees, and even car garage managers, to fully mobilize within the framework of this campaign and to clean up their properties.
The objective is to give the opportunity to each citizen to carry out a major cleaning so that the territory is clean in the long term.
As a reminder: The local recycling centers are also open for the deposit of bulky items and used household appliances – They are free for individuals.
Grande Cayes Ecosite: 05 90 87 25 47 – open Monday to Friday: 6 a.m. to 4 p.m. / Saturday: 6 a.m. to 12 p.m.
Galisbay recycling center: 05 90 87 79 48 – open Monday to Saturday from 10 a.m. to 6 p.m.
The Collectivity continues its effort to clean up ELVs, BHUs, and ravines
As part of this great collective cleaning, the community of Saint-Martin is currently removing car and boat wrecks and plans to clean the main ravines in August.
- Removal of car wrecks
In parallel with this collective cleaning campaign, the Collectivity continues to collect end-of-life vehicles (ELV) throughout the territory. President Louis Mussington has just signed a purchase order for the removal of 600 ELVs.
If you want to get rid of a wrecked vehicle, please send your request along with the necessary documents (copy of registration document, copy of your identity document) to:
By email: This email address is being protected from spambots. You need JavaScript enabled to view it.
Two telephone contacts are at your disposal: 0690 88 69 29 or 0690 22 29 73 - Department of the Environment, Water and Energy - Environment department.
The community collects end-of-life vehicles free of charge on public property, and in some cases on private property. This operation will continue throughout the month of July. Enjoy!
- Removal of shipwrecks
The Collectivity is currently proceeding, within the framework of a public contract awarded to the company KOOLE, to the removal of 140 shipwrecks in the lagoon of Simpson Bay and on the maritime public domain of the French part. This operation is carried out in partnership with the European Union, which finances 85% of this work.
- Cleaning of gullies and drains
The Collectivité will clean up the gullies requiring intervention before the high hurricane season, during the month of August. Communication will be made in due time to announce the start of the work.
The Collectivity of Saint-Martin thanks you for your active participation in cyclonic preparation and cleaning up the territory.