~ Jimmy Gumbs recognized by State Services.~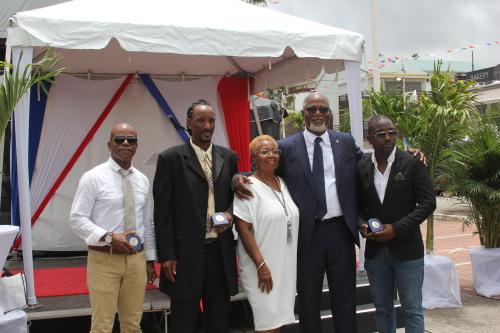 MARIGOT:--- President Louis Mussington honored three persons on Thursday during the Bastille Day celebration for their exceptional services to their community and the people of Saint Martin.
Those honored are Francis Gibbs a Saint Martiner who has been working for the Collectivity for the past 25 years.
Gibbs is the head of the financial services of the COM. He was educated in Saint Martin, Guadeloupe, and France prior to returning home to work and serve his community.
The second person that was honored is Patricio Carty aka Blade who was also born on Saint Martin.
He was recognized for his participation in the cycling tours on both sides of the island, Curacao, Aruba, Nevis, Tortola, Anguilla, and Guadeloupe.
During his professional career, he represented Saint Martin in Martinique, Dominica, Puerto Rico, Tortola, Jamaica, and the Dominican Republic.
After completing his cycling career Blade has since established an association where he teaches youths, especially those living in the Sandy Ground area.
The third person recognized on Thursday is Louinel Telisma aka Skelet, even though born in Saint Martin he did not grow up in an easy environment yet he became a model for those around him with his musical talent. Skelet is the founder of the Red Eye Crew. He also established an Association "We can Give Foundation" mainly to assist persons on Saint Martin that are in vulnerable situations.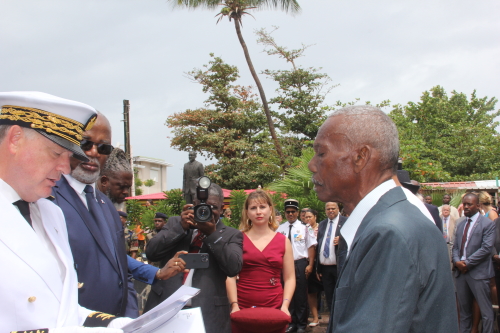 Prefet Vincent BERTON also presented medals to several persons on Thursday. They are five gendarmes, the medical doctor assigned to the Louis Constant Fleming vaccination center, and Jimmy Gumbs for his contributions to the French Quarter community council.