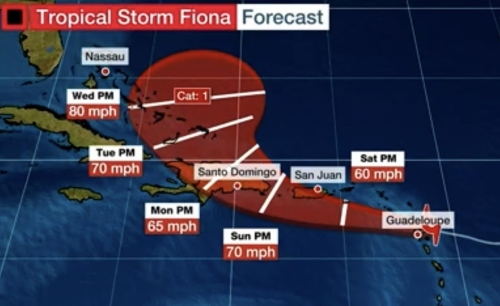 PHILIPSBURG(DCOMM):--- At 5:00 PM, Tropical Storm Fiona was located approximately 170 miles southeast of Sint Maarten.

On its present track, according to the Meteorological Department of Sint Maarten, Fiona is forecast to pass at its closest 80 miles southwest of St. Maarten on Saturday morning.

The country remains under a Tropical Storm Warning, which means we are still forecast to receive tropical storm conditions which is expected to begin tonight.

Fiona's maximum sustained winds are 50 miles per hour with higher gusts possible. At 12 noon today-Friday, a gust of 35 miles per hour was recorded at the Princess Juliana International Airport.

Tropical Storm Fiona could still produce total rain accumulation of up to six inches beginning tonight. This rainfall may be accompanied by thunderstorms and could produce flash flooding.

The Prime Minister would like to reiterate the message from the Police Force, motorists and pedestrians should remain off the public road and should have been safely at home by 6:00 PM this evening. Jacobs saw a good bit of traffic on the road late this afternoon and appealed to drivers to please "…make your way home to ensure your safety."

Weather conditions are expected to deteriorate tonight and therefore, it is important to steer clear of potential areas prone to street flooding, such as in low-lying areas or areas where rock falls can occur along the hillsides due to landslides.

"While at home, use the time to spend quality time with your family, perhaps bond over fun memories, or find a healthy distraction playing card games and/or dominoes, or other fun activities," Prime Minister advised.

Earlier today the Prime Minister called on the community to help and assist the vulnerable, and she hopes that this was indeed done.

The Government has been looking at other storm shelters in case this is necessary, however, the John Larmonie Center was opened on Friday afternoon and is managed by Emergency Support Function 6, 5 and volunteers with whom they have an established relationship.

Discussions have already taken place with the Minister of Justice and His Excellency the Governor regarding Dutch military assistance in the event that it is needed. A formal request is being submitted as a precautionary measure while the Prime Minister stated it was better to be safe than sorry.

Jacobs also stated that the last of the trenches were cleaned on Friday where necessary. Any brush or debris found was removed, and any other obstructions were assessed to determine if it would obstruct the flow of rainwater, and this was not the case.

The Prime Minister during her 6:00 PM national address called on the community to continue to do what has to be done, as much depends on the community to be prepared and to adhere to decisions made to keep us all safe during the passing of the storm.

NV GEBE is ready for the passing of Fiona and does not expect any major power outages during the passing. There is also a back two-day supply of potable water.

Telecommunication companies are also ready for the passing of the storm. This would ensure that everybody remains connected to the Internet to receive important credible information from the authorities as well as stay in contact with family and loved ones.

The Prime Minister called on the community to continue to stay up to date on the latest developments regarding the storm via the official announcements and publications made via government mediums and via the Meteorological Department of Sint Maarten website www.meteosxm.com or visit their social media page Facebook.com/sxmweather/ where you will be able to find weather updates and special bulletins.

The next update will be on Saturday, September 17 at 9:00 AM via Facebook Live @SXMGOV and SXMGOV Radio 107.9 FM with respect to the current state of affairs on Saturday. All businesses are to remain closed until further notice. An assessment will be carried out on Saturday morning and at 9:00 AM information will be provided via the Prime Minister's national address. Stay safe this evening and remain vigilant.

"I am, your Prime Minister Silveria Jacobs. I wish you all a good night. God bless Sint Maarten and her people. The Government of Sint Maarten stands with you," said Jacobs.