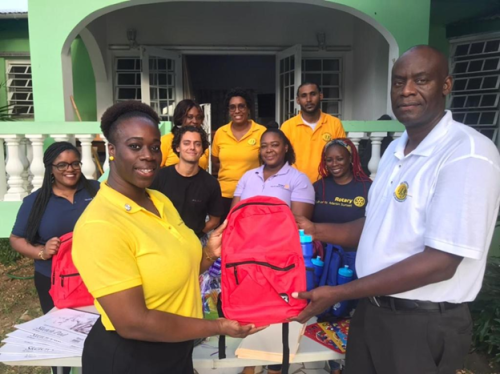 PHILIPSBURG:--- In recognition of Rotary's Basic Education and Literacy Month, which is observed during September, members of the Rotary Club of St. Martin Sunset presented educational supplies to the Ujima Foundation and 721 Kids Foundation.
The club donated school bags, notebooks, and other stationery items. These items were presented to Ujima representative Mr. Fernando Richardson and 721 Kids representative Ms. Termada Shalland at their respective locations on Wednesday, September 15th, 2022.
Since 2005 the Ujima Foundation has been offering a residential therapeutic program and an afterschool day treatment program, which caters to "at-risk" boys and girls between the ages of 8-14. The program addresses depression, conduct disorders, sexual and emotional abuse, and drug and alcohol addiction. In addition, Ujima Foundation's programs are designed to foster a sense of purpose, self-worth, and belonging in the lives of vulnerable youths.

The 721 Kids Foundation is also a non-profit organization that serves the community by providing quality educational, recreational, and social programs through childcare services, afterschool programs, and family-oriented events. Their team operates a dynamic afterschool program and several initiatives for children between 0-16. The Foundation's mission is to create a fun and safe learning environment for children. 721 Kids Foundation's programs are geared toward equipping the youths to become outstanding contributors to our society.
"We are grateful for our team and the partnership of our international contributor, Mr. Lance A. Clarke, Esq. and our local contributors, such as Office World, Dollar Smart, and Van Dorp Eddine, for their exceptional donation towards our Adopt-A-Schoolbag project. Rotary Sunset will continue to highlight light on the importance of education and literacy, especially among our youngsters. As basic education and literacy is a right for every individual," Service Projects Lucrecia Lake stated during the presentation.
The Rotary Club of St. Martin Sunset meets every second and fourth Monday of the month at Carl N Sons Unique Inn and Conference Facilities in Cole Bay at 7:30 PM. The club can be contacted via email at This email address is being protected from spambots. You need JavaScript enabled to view it. or via the official Facebook page at facebook.com/rotarysxmsunset.
Pictured: Members of the Rotary Club of St. Martin Sunset presenting the school supplies to the staff of Ujima Foundation at the residence.