~ Brison unleashed the other side of the party scandal.~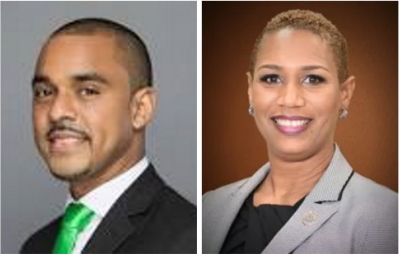 PHILIPSBURG:--- Its been months now that it was rumored that there have been internal problems with the UPP Leader MP Rolando Brison and the wife of the party founder MP Grisha Marten Heyliger which today has tipped over in the public domain and have hindered civil servants that are eagerly awaiting the removal of the 12.5% cuts mandated by the Dutch Government.
On Tuesday Heyliger Marten took to the airwaves where she said that she would break her silence. However, the only silence the MP broke was to say that she had factual information that showed that MP Brison had the famous dossier that cost Michel Hyman his job at the Princess Juliana International Airport.
Besides that, the Member Parliament degraded Brison by calling him a liar and said that he told her that he has traits of being borderline bipolar while having traits of a narcissist.
Heyliger Marten also threw the members of the UPP board under the bus that did not fully support her desire to hold a congress and remove Brison as the party leader.
On Wednesday the UPP leader Rolando Brison was interviewed by the same radio host, who questioned him about the allegations made by the founder's wife. Instead of playing dirty and hitting low blows, Brison showed the hosts a series of emails where he tried to communicate with his colleague, most importantly he allowed the host to listen to a voice note that MP Heyliger Marten sent to him clearly informing him that she would not support a coalition with MPs Akeem Arrindell and MP Chanel Brownbill. On Tuesday Heyliger Marten maintained that she signed the coalition agreement for Jacobs 2 cabinet and that she did not see any need to also sign the new agreement to add the 2 Members of Parliament that have given their support to the National Alliance/ UPP coalition. Marten Heyliger said unless there is a Jacobs cabinet 3, there is no need to sign on to the agreement with Brownbill and Arrindell. In that same interview, Heyliger Marten expressed her disagreement with the Ministry of TEATT being given to MP Akeem Arrindell.
Brison, on the other hand, said that the Ministry of TEATT was not given to any member of parliament and that the Minister that is now undergoing screening was selected by him the leader of the UPP while he did consult with the board members of the UPP.
Brison also indicated that he is still willing to work with his colleague Grisha Marten Heyliger and that he will not give up on her and the country that has faced years of instability.
The leader of the UPP said that over the years the United Peoples Party only served the interests of a few people but under his leadership, the party will have to serve the general interests of all the people of St. Maarten.