~ Coalition inherits broken system says PM.~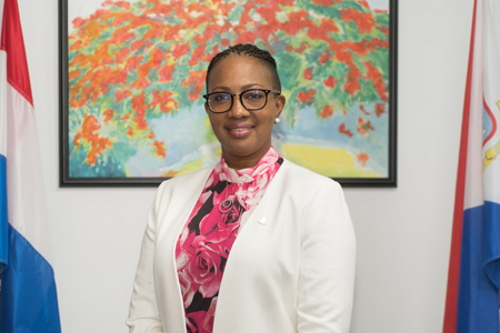 PHILIPSBURG: --- Prime Minister of St. Maarten Silveria Jacobs said that the government of St. Maarten has support from eight members of parliament, she made the comment in response to a question posed to her regarding the rumors that the government has fallen.
The Prime Minister explained that there was a meeting on Tuesday in parliament dealing with the 2022 budget and all eight members that support the coalition were present. She explained that while some members of parliament continue to play politics the government of St. Maarten is busy working on getting access to the capital expenditure funds.
Jacobs said people have been complaining about the things that are needed but without the capital expenditure funds, these things cannot be achieved. It is unfortunate that politics are being played with what is important for St. Maarten. "We do have a coalition and if anyone can do the math, they would know eight is a majority. We have lost support, but we do have eight and we consider it stable enough to continue to govern. I have known of governments that were formed with eight and that question does not come up weekly." This government lost some support, but it also gained support, at no time the government was in any jeopardy
Jacobs called on the people of St. Maarten to remain resolute since they are in the most difficult period that any government has ever had. She said anyone can stop and throw rocks but to be in the kitchen are the ones that feel the heat with limited funds and after inheriting a system that was broken for many years. A lot of repairing needs to take place. When repairing these broken systems the culture that has political ramifications also needs changing.
Jacobs said she is still working on election reform and promised that it will be finalized before any election which would have to be called by the government.