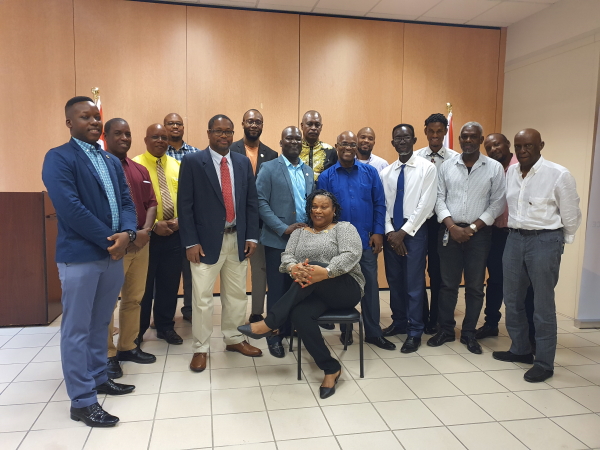 PHILIPSBURG:--- A special meeting with Men executing all roles was held by the Toastmasters clubs on Sint Maarten this past Saturday to commemorate International Men's Day. The meeting, organized by Division I was held at the Government Administration Building.
The event was held to highlight and recognize the amazing male Toastmasters in Sint Maarten.
Organized by Division I Director Cheryl York and hosted by Area Director Arcides Christina, the evening consisted of informative, educational, and full-filled presentations. With the theme of the evening "It takes all kinds of men to make the world" DTM Elroy Hughes charged up the meeting with affirmations that had the male participants actively involved.
Guest Speaker, DTM Rolando Tobias, presented a speech entitled "Where are you male members, Toastmasters" in which he pointed out the declining participation of men in the Toastmasters program on Sint Maarten as well as throughout the world. He highlighted that despite the fact that men have been running the organization since its inception in 1924 while women were only allowed to join since 1973; today female membership outpaces that of males by 155.000 to 127.000. His presentation further highlighted the fact that male participation is declining in all sectors of society while pointing out possible reasons. His solution to this challenge is for men to join and actively participate in Toastmasters. Tobias pointed out that with the organization's core values, men can reset their moral compass and get back on track toward executing their roles as productive men in society. As Toastmasters provides the opportunity to enhance communication and leadership skills, men will be able to practice better listening, thinking, and speaking skills thereby giving them greater self-confidence and ensuring personal growth.
Toastmaster Kareem Rombley provided some advice on how men can improve their relationships with his speech "the kinder man a woman wants". Topic master Damien Schmidt challenged the men to practice their impromptu speaking skills by providing thought-provoking statements about women in relationships, much to the delight of the women in the audience. DTM Malcolm Jacques, who executed the role of Quiz Master took the members on an educational journey of the Toastmaster's history as members were allowed to demonstrate their listening skills during the evening's proceedings as well as their knowledge of the Toastmasters organization.
Division Director Cheryl York thanked the male members for taking up the challenge to execute all the roles as she wished everyone a happy International Men's day. With over ten clubs in Sint Maarten, Toastmasters is the world's leading communication and leadership organization.