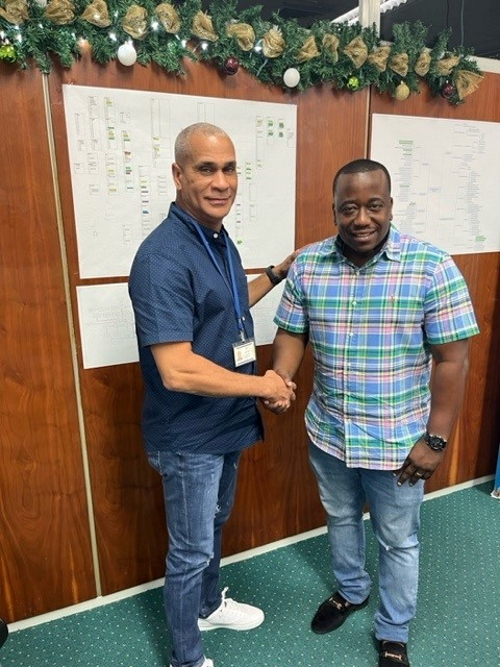 PHILIPSBURG:--- On behalf of the family, I want to take this moment and wish the people of St. Maarten a Happy and prosperous New Year. Last year was a challenging year for our country. Nevertheless, we are a resilient people and together we will look to the future with optimism and faith. Last week candidate Julian Rollocks jr traveled to Willemstad and met with Mr. Derrick Jonis, director of Aqualectra N.V. a utility company located on the island of Curacao.
As a modern utility company, Aqualectra provides water and electricity to over 85 thousand homes. As a concerned citizen and a candidate in the upcoming elections, I traveled to Curacao to interview Mr. Jonis, in order to have a better understanding and gather information on the subject of pre-paid electricity. I believe that as a candidate it is my duty to be informed on the subjects I intend to champion for the people of St Maarten. One of those challenges is the high cost of electricity in St Maarten.
During my interview, Mr. Jonis explained that there is a solution for the high energy cost and that the company is open to help GEBE NV achieve this goal. He explained that in the past on several occasions Aqualectra NV assisted GEBE NV, Mr. Jonis explained that in the aftermath of Hurricane Luis, Aqualectra assisted GEBE NV with resorting to the power grid on St Maarten, and in 2017 the company was there for St Maarten to assist after the devastation that was caused by Hurricane Irma. Back in the 1990's he had great admiration for the late Mr. Julius Lambert, the former managing director of GEBE NV. During that time there was a great collaboration between the utility companies of Curacao and St Maarten.
Mr. Jonis is of the opinion that as small developing islands Curacao and St Maarten should be there for each other as sister islands within the Dutch Kingdom. In addition, Rollocks jr questioned Mr. Jonis concerning the prepaid electricity in Curacao.
Mr. Jonis explained that prepaid electricity went into service in 1997 in Curacao, that's about 26 years ago. Mr. Jonis explained that the meters came from the continent of Africa and that the installation and use are not too complicated. He explained that Prepaid electricity gives the consumer control and management of one's electricity consumption.
As a young businessman, I understand and can relate to the sacrifices that the average working man and woman have to make. As a candidate in the upcoming elections, Rollocks jr will continue to look for common-sense solutions for the people of his country. In my opinion, our government is taking the situation very lightly said Rollocks jr. I hope and pray that a cost-effective solution can be found to give the people of St Maarten some much-needed relief.
As March 1st, 2023, is steadily approaching, it will mark the one-year anniversary of the Malware cyberattack that almost cost St. Maarten its utility company. As a candidate and concerned citizen, Rollocks jr will continue to propose ideas and remains open to collaborating with persons in the community who have the best interest of the people of St Maarten at heart.
Please visit my Facebook page 'Elect Julian H.J. Rollocks jr. You are welcome to leave a comment or suggestion. For more information on pre-paid electricity, please view the entire interview with Mr. Jonis.