~Wishes the public a prosperous 2023~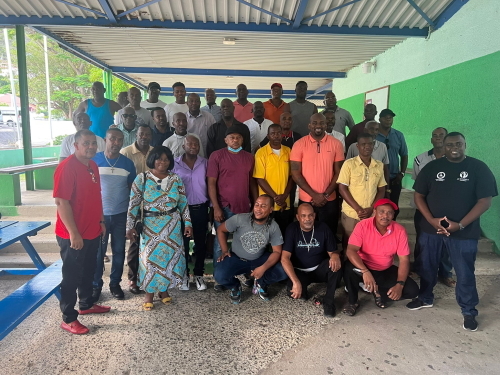 PHILIPSBURG--United Bus Drivers Association President Claude Omeus in his 2023 new year's address wished the population a healthy and prosperous 2023 and beyond. The expected bus fare increase has not yet gone into effect and the association is in talks with the government to introduce the increase before the end of the first quarter of 2023.
Omeus also stressed that the government specifically the ministry of TEATT, should not forget the plight of bus drivers and other public transportation services men and women who are also struggling with the impact of the high cost of living on the island.
"2022 was a year of reflection for the group while recruiting more members to join the group as drivers continue to keep their heads above water while dealing with increases in food and fuel prices. Public transportation does not run itself and we hope as an association to get the much-needed attention for improvements to our sector, stated the association president on Tuesday. With the recent announcement by Acting Minister of Tourism, Economic Affairs, Transport and Telecommunication (TEATT) Omar Ottley increasing the minimum wage, the president wants to know if any consideration was taken on several proposals brought to the ministry of TEATT over the years and not one initiative was executed.
The president and board of the association presented a list of proposals to the TEATT Ministry for an amendment to the public transportation ordinance. Some of the other concerns are amending the bus zoning routes and medical coverage for bus operators. There are a number of districts that still do not have bus routes but have been knowingly served by gypsies and no government has tackled this issue for years, commented the president.
"We like to thank all our customers for supporting the bus drivers over the years and we look forward to continuing to serve the public at large. Without the hard-working persons who take a bus morning, noon, or night, bus drivers would not be able to make a living and we continue to be grateful to the public, said Omeus.
The association has taken note that said the TEATT Ministry that several items are in the pipeline but hopes that this is not just because election time is near and announcements without substance are being announced.
"We would like to thank the acting Minister TEATT Omar Ottley and his team for their continued support working on the much-needed price list increase in the making and we hope the next minister coming in can continue finishing the process finely," concluded the bus association president on Tuesday.