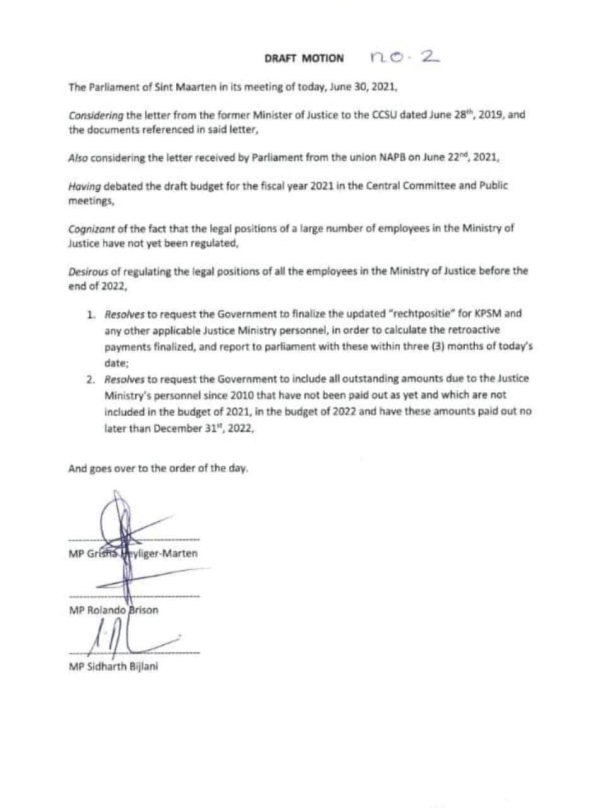 PHILIPSBURG—Minister of Justice Anna Richardson is under hot water with members of her justice ministry once again after not executing a motion tabled by Independent Member of Parliament (MP) Grisha Heyliger-Marten on June 30, 2021. This motion called for the approved updated scales for KPSM needed to calculate the retroactive payments to the employees concerned finalized within three (3) months after the date of the motion.
The motion also resolved to include all outstanding amounts due to the Justice Ministry's employees since 2010 that have not been paid out as yet and which are not included in the budget of 2021, in the budget of 2022 and have these amounts paid out no later than December 31st, 2022.
The Parliament has not received a complete update of the status of the execution of this motion, and the deadline of December 2022 has already passed and no payments were made. In a statement late last year, Mp Heyliger said that civil servants who are entitled to receive what is due to them have been waiting for years now, and this situation needs to be rectified as soon as possible and once and for all", according to the MP.
"For some time now, I have been trying to get clarity from the Hon. Minister on the progress of regulating the legal positions ("rechtsposities") of the civil servants employed in the Justice Ministry. NAPB Police Union President Rogerrel Eugenio Mauricia told SMN news on Tuesday that "The government has to come out and apologize to members of the KPSM, Immigration and members of the Federal Detectives and Parliament should do its job."
Back pay
NAf. 1.9 million was paid back in 2020 from the government's treasury to pay 250 workers 50 percent of their back pay. The payment was made by then Minister of Justice Egbert Doran. The government will be reimbursed the amount used when the expected tranche of payment is received from the sale of St. Maarten's 12.5 per cent shares in United Telecommunications Services (UTS).
The first settlement from the UTS sale was paid on September 10, 2019, which amounts to NAf. 9.2 million. Although Members of Parliament (MPs) wanted the funds to go towards settling the retroactive payments to Justice workers, the first tranche went towards settling a debt to TelEm by former minister of Finance Perry Geerlings. The question remains what happened to the %50 of the monies owed to justice workers? Will the other half of the money be paid close to the elections in 2024? Will parliament hold Minister Richardson accountable for not delivering on the motion? These are some of the questions that need some answers from our Minister of Justice Anna Richardson.