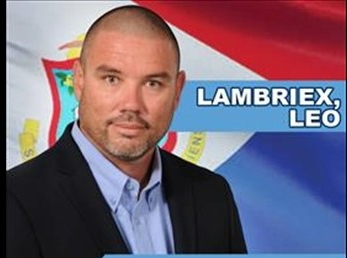 PHILIPSBURG:--- Incoming Minister of TEATT Leo Lambriex will be sworn in on Wednesday morning at 9 am. SMN News has been reliably informed that Lambriex will be taking the oath in the presence of Governor Ajamu Baly on Wednesday however the time of swearing-in has not yet been released by the Governor's office.
Lambriex was selected as the Minister of TEATT by the two Independent Members of Parliament who have given their support to the National Alliance and United Peoples Party coalition government when a number of Members of Parliament from both parties declared themselves as independent members of parliament.
Lambriex is the policy advisor to Member of Parliament Akeem Arrindell, he was selected and vetted as the incoming Minister of TEATT after former Minister of TEATT Roger Lawrence fell ill and subsequently resigned. he was selected by members of the UPP and the two independent members Akeem Arrindell and Chanel Brownbill.
Lambriex is the son of Leo Chance former Manager of SEL Maduro and Sons who worked for several years at SEL Maduro and Sons and at Port of St. Maarten prior to taking on the position at the Parliament of St. Maarten.
Lambriex also ran as the #18 candidate on the USP slate prior to taking up his position in the office of MP Arrindell.