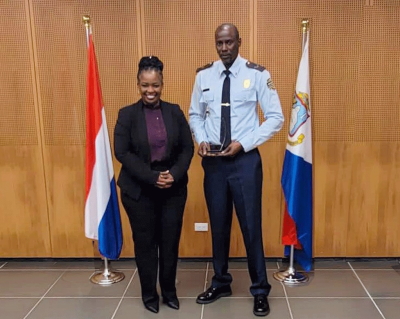 PHILIPSBURG:--- To honor a great achievement not only for Sint Maarten but the Dutch Caribbean region, the Honorable Minister of Justice Ms. Anna E. Richardson recently held a ceremony at the Government Administration Building to congratulate and highlight Immigration officer Leo Vanterpool on his achievement of becoming Sint Maarten's 1st Document 3 Specialist.
Officer Vanterpool is the first and only Document 3 Specialist on the island and in the region. He traveled to the Netherlands and attended the Royal Netherlands Marrechausse Academy where he remained for a period to undergo both theoretical and practical training to acquire his certification at the Learning Institution.
Though all Immigration officers are certified to detect fraudulent documents based on level 1 and level 2 certifications, having a level 3 certification goes more in-depth into fraud. Officer Vanterpool is now also certified as a trained trainer giving him the ability to train his colleagues in this area.
During the ceremony, Minister Richardson gave attendees such as his classmates and supervisors the opportunity to share some congratulatory words with Officer Vanterpool. Several shared special moments about how Officer Vanterpool always exemplified academic excellence and they always knew he would achieve great accomplishments.
As a token to remember he's valued, Minister Richardson expressed how proud she is of Officer Vanterpool and presented him with a crystal award engraved with the following words: " Commander of the Education Training and Knowledge Center of the Royal Netherlands Marrechausse declares that Leo Ignacio Vanterpool has fulfilled the requirements of the document expert/specialist course "Doc 3".
Officer Vanterpool in the presence of his classmates and colleagues representing the graduating class of 2013, supervisors, mentors, his beloved mother whom he referred to as his Queen and the Honorable Minister of Justice, expressed his profound gratitude to everyone in the room for the support and encouragement they've given him over the years to present day.
He also expressed his gratitude to the Minister for giving him this opportunity. He advised her that he sees her efforts to make positive strides for the ministry and staff and prays that she continues to be successful with all she is doing.
The ceremony was rounded off with a celebratory toast and a memorable photo to be framed and displayed at the immigration office for future generations to be inspired by this historic achievement.