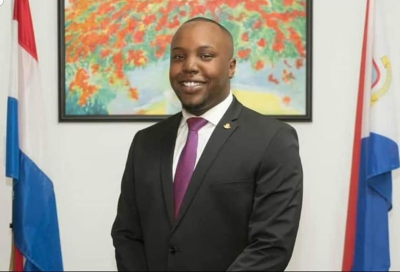 PHILIPSBURG:--- Residents of Dutch Quarter are currently dealing with the heavy stench from raw sewage. Minister of VROMI Egbert Jurendy Doran the leak was contained on Sunday evening when VROMI's emergency response team from the Department of Infrastructure Management responded and provided an immediate temporary solution to stop the leakage onto private property. He said Pit #4 is the last and final stop between a series of similar pits which cater to the sewage network of household connections in the greater Dutch Quarter and Belvedere area. Pit #4 is the last pit in the chain, this pit is responsible for the final haul of pumping sewage over the top of Mount William Hill to the collection plant at A. Th. Illidge Road.
He said that Infrastructure Management has since executed a structural analysis of Pit #4 and has concluded that this and other pits in Dutch Quarter were not installed with a liner or barrier between the liquid sewage and concrete, causing the inner walls of the pits to become deteriorated over time. Although this leak was not predictable, the issues surrounding the pits being at their end of life were known which caused them to be slated for replacement as part of the Dutch Quarter EDF project which officially kicked off on October 24th, 2018.
The Minister of VROMI further explained that the continuation of this project is held up due to litigation between the contractor and Government and in February of 2023 parties will return to court on this topic.
The Ministry has put a plan in motion to bypass Pit #4 by adjusting the network, however in the interest of public health, for the time being, the transfer of sewage to the A. Th. Illidge Road Facility will take place by means of trucking for the next coming days until the bypass is installed and tested. Doran said that the ministry is also engaging in conversations with the landowners of the property where the pit is located to ensure they can carry out the plans effectively and efficiently.