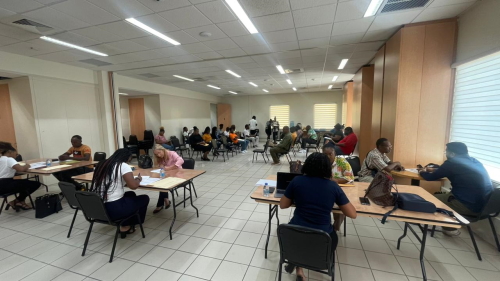 PHILIPSBURG:--- C'z Exclusive Business Services hosted a job fair at the Government Administration Building in partnership with the National Employment Services Centre (NESC). It was a good turnout with approximately 100 persons present at the fair and some candidates were hired on the spot.
The purpose of the job fair was to explore different avenues of recruitment. This was the brainchild of Ms. Chavilly Hook, CEO of C'z Exclusive Business Services. Hook contacted the NESC to inquire about the database of the persons that are receiving financial aid in order to offer them an employment opportunity. The partnership was formed to collaborate and host the job fair.
C'z Exclusive Business Services is a job placement agency. The company recruits persons to work for various organizations and offers additional services such as outsourcing, payroll, courier services, accounting, banking service and more. The National Employment Services Centre was established in 2018 with the goal to provide training and job opportunities to local qualified candidates. The NESC is an independent digital platform to facilitate employment opportunities and employability enhancement programs achieved through public-private partnerships.
According to Ms Hook, "Several persons expressed interest in office/business administration for posts such as administrative assistant or customer service representatives. Overall, I'm happy with the number of persons that showed up today. We also received some impressive resumes from candidates, some of whom hold associate's and bachelor's degrees.
The NESC was also pleased with the turnout. According to the officials, "We estimated about 100 persons came to apply for the positions available, with a huge number of qualified and capable candidates ready to take up the responsibilities and tasks that come with the positions applied for. The NESC hopes that this is the beginning of a long-term partnership with C'Z Exclusive Business Services where we can work together to provide employment as well as training opportunities for these candidates."
The first interviews were done with C'Z agency. For those candidates who were not immediately placed, their resumes will be sent to the potential clients. The client decides which person will move on to the second interview. Emails will be sent out to the candidates within short to inform them whether or not they were selected for the second round. The agency will keep the documents on file for future vacancies for those who were not successfully placed at this time.