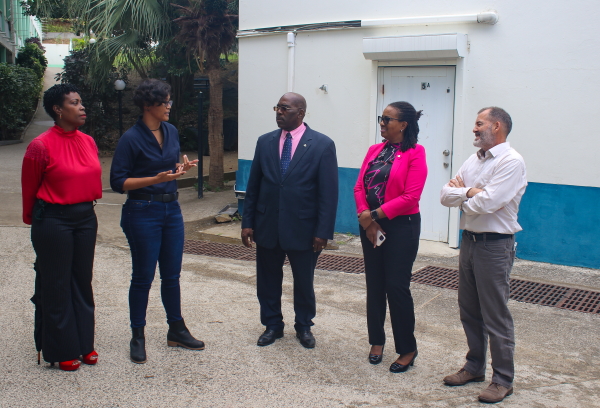 PHILIPSBURG:--- With work completed at Milton Peters College (MPC), Methodist Agogic Centre (MAC) Comprehensive Secondary Education, and St. Dominic High School, a total of six (6) schools have now been repaired through the Sint Maarten Trust Fund.
The program's scope of work includes fixing roofs, doors, and windows, as well as mold remediation, plumbing, and minor electrical work. The contractor also installed new aluminum shutters on doors and windows where necessary.
In the case of MAC, additional structural interventions had to be done to improve the school's resilience to natural disasters. This resulted in two of the school's buildings being more securely anchored to their concrete foundations using steel connectors that were specifically designed to help them resist high winds and heavy tremors.
A small ceremony took place on Wednesday, January 25 to symbolize the completion of the three schools. In attendance were Prime Minister Silveria Jacobs, Minister of Education, Culture, Youth, and Sport (ECYS) Rodolphe Samuel, members of the respective school boards, and personnel of the National Recovery Program Bureau (NRPB). Representatives of the contractor and supervising contractor were also present.
"Thanks to NRPB for implementing safeguards, and contractors who have helped to raise the bar for reconstruction post-Irma and Maria, Building Back Better. Congratulations to MPC, St. Dominic, and MAC high schools on the needed repairs through this project. As an educator, it warms my heart to know that the students and teachers will finally be able to have their buildings fully working. It's also a relief for them to be able to get back to normal with their schools now repaired; handed over safer and more resilient to future disasters. Thank you for your patience during this process. It is the goal of this government to ensure all schools are properly prepared and look forward to the coming repairs of the next batch of schools as well as school gyms that are scheduled in the next phases," said Prime Minister Jacobs.
"I am happy that this phase of the school repairs has come to completion. This means that we have three more schools in which the students can enjoy face-to-face instruction again. I would like to thank everyone in some way or the other who has made this possible. I look forward to the next phase of the school repairs," said ECYS Minister Samuel.
The Trust Fund's school repair program is now entering its third stage. Thirteen (13) schools are slated for repairs in the next 18 months, with the work on the first six (6) of these schools scheduled to begin later in the first quarter of 2023. The repairs will continue in batches until they are all completed.
The 13 schools are MAC Browlia F. Maillard Campus, MAC John A. Gumbs Campus, the Hillside Christian Schools (Asha Stevens and Helmich Snijders Campuses), Seventh-Day Adventist School, Sister Borgia Primary School, Sister Magda Primary School, St. Dominic Primary School, St. Maarten Academy, St. Maarten Academy PSVE, University of St. Martin (USM), Sundial School, and the National Institute for Professional Advancement (NIPA).
"In order to facilitate quality education, the buildings that surround our students and educators must be solid, safe, and secure. Through the Trust Fund and on behalf of the Government of Sint Maarten, we are ensuring that the foundations for education can be met in our primary and secondary schools. As we move into the final phases of the school repair program, I am proud to know that we are making strides to become a better, stronger, and more resilient nation," said NRPB Director Connor.
The Sint Maarten Trust Fund is financed by the Government of the Netherlands, managed by the World Bank, and implemented by the NRPB on behalf of the Government of Sint Maarten.