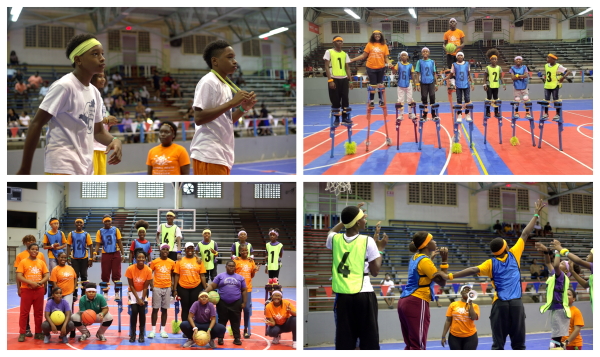 PHILIPSBURG:--- This past weekend history was made in the sports arena on St. Martin with the introduction of a fusion game basketball on stilts at the L.B. Scott Sports Auditorium. The game was created by the Funtopia youth initiative foundation as a part of the stilt walking training to help the students with their agility on stilts. The game distracts the children's minds when learning to walk they no longer think about failing or balancing their focus shifts to maneuvering their body on the stilts to catch the ball and make score with their teammates. Without knowing the students are running, jumping, and squatting using full body motion on the stilts.
The game was initially developed in 2014 when training our first set of walkers when we started the stilt training program in 2021 with UNESCO, we saw the need to explore the game rules more in order to have 2 teams play full court. The main rule of the game is to score points by tossing the ball to teammates using most of the rules of netball. Because of the distance from the floor only cross bouncing is allowed as over and underhand tossing. Says foundation president Lucinda Audain.
Over the weekend we had several schools that have been a part of our stilt training program participate in the friendly display games as an opening for the basketball with characters and senior basketball tournament hosted by St. Martin First foundation and Dream chasers. The kids played 2 quarters for 10 minutes on the court to showcase their skills and introduce the sport to the audience with hopes to spark interest in more children to join the program.
On Thursday 27 January, students from Martin Luther King School played Oranje school students. Score 1 – 5. Top scorer was Elianna Morris from Oranje School. On Friday 28 January, students from MAC Primary Rev. John A. Gumbs Campus played students from Sister Marie Laurens and Martin Luther King School. Score 4-4 top score Abigale Smith from Sister Marie Laurens school. On Saturday 28 students from Hillside Christian school Asha Stevens played students from Hillside Christian school Helmich Snijders. Score 14 – 12 top scorers Nessiah and Nahjah Munoz.
An additional highlight of the weekend was the colorful display of stilt walkers long the Walter Nisbeth Road for the mini cultural parade which was the longest walk for most of the junior walkers accompanied by Generation New Status drum band and DJ Vybz. This was a delightful round-off to the introduction to moko Jumbie culture project. This project was supported by the following institutions the Government of the Netherlands under the Sint Maarten Trust fund, implemented by Resources for Community Resilience (R4CR), administered by VNGI, and overseen by The World Bank.
The foundation would like to thank the community for coming out to support the initiative and the parents for allowing the students to participate. Persons interested in learning stilts walking can contact the foundation at This email address is being protected from spambots. You need JavaScript enabled to view it. for more information.