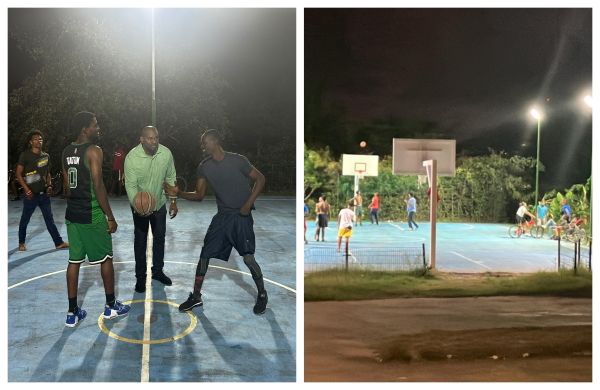 PHILIPSBURG:--- On Thursday, February 2nd, the Honorable Minister of Public Health Social Development and Labor, Omar Ottley accompanied by the Community Development Family and Humanitarian Affairs Department (CDFHA) gathered at the Cay Bay Basketball court to celebrate the lighting of the court.
"The court has been without lights since the passing of hurricane Irma, we waited five and a half years to shine bright again and we are thankful." Said Cay Bay community members. Minister Ottley stated, "It was such a pleasure to witness the youths immediately playing basketball when the lights came on."
After the St. Peters basketball court received lights; members of the Cay Bay community reached out to CDFHA to request the same assistance for lighting the Cay Bay basketball court. With no hesitation, Minister Ottley met with the head of CDFHA, Mrs. Chantale George - Groeneveldt, and planned how they can assist with the lighting of the Cay Bay basketball court also.